Thanksgiving Box Office led by 'Breaking Dawn'!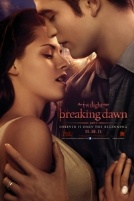 The Thanksgiving weekend was led by Summit's "Twilight: Breaking Dawn, Part 1" in 4,061 theaters earning an estimated $42 million for the 3-day portion and $62.325 million since Wednesday to take the top spot. The film has deposited $221.3 million in the blood bank in North American since its debut on the 18th and a whopping $489.3 million in worldwide dollars. For comparison, "New Moon" had $230 million at this point in North America.
In second is newcomer "The Muppets" from Disney with a weekend tally of $29.5 million in 3,440 theaters and $42 plus for the 5 days since its Wednesday debut. Jason Segal's delightful love letter to The Muppets was a solid choice for families this weekend and should perform well throughout the holidays.
In its second weekend, Warner Bros.' family-friendly "Happy Feet Two" takes the third spot with $13.4 million for the weekend portion and $18.37 million since Wednesday. This brings its total gross to $43.8 million in North America.
At number four for Wednesday is Sony's magical "Arthur Christmas" with $12.7 million in Christmas cheer for the weekend in 3,376 theaters. The film was created by Aardman, the British animation house and with its 3-D imagery brought in about $17 million for the 5-day period. The PG-rated film should play well throughout the holidays with its Christmas theme.
Rounding out the Top Five is Paramount's newcomer "Hugo" in just 1,277 theaters and the highest per-theater average of any of the wide release newcomers. The film started slow and then came on strong over the weekend as stellar reviews and great word-of-mouth have propelled the film.
Sony's Adam Sandler comedy "Jack and Jill" entered its third weekend on Friday and earned $10.3 million for the weekend and $14.1 million since Wednesday. The PG-rated comedy played well with families looking for a live action comedy for the Thanksgiving frame. The film has earned $57.4 million to date in North America.
In seventh place, Relativity Media's "Immortals" which started its third weekend on Friday earned $8.8 million for the weekend and $12.5 million since Wednesday with $68.6 million to date.
Other notable films include Fox Searchlight's "The Descendants" in its second weekend which inherited $7.2 million this weekend and $9.2 million since Wednesday in just 433 theaters for an amazing $16,628 per theater. As the potential Oscar contender continues to expand its total North American box office nears $11.0 million to date.
Warner Bros.' "J. Edgar" with $4.95 million for the weekend and $6.765 million since Wednesday continues its solid run with nearly $30 million in Federal Reserve notes to date.
Finally, Weinstein Co. had a great weekend as the excellent "My Week with Marilyn" seduced about $1.7 million for the weekend and $2.1 million since its debut on Wednesday to take the 12th spot. In addition their brilliant newcomer "The Artist" made its debut in just 4 theaters with an incredible $210,414 and a whopping $52,604 average.
Sony Classic's "A Dangerous Method" on its first weekend took off with $181,852 in just four theaters.
The weekend was solid but not spectacular posting the fifth best Thanksgiving total of all-time with about $234 million for the Wednesday through Sunday frame and far short of the record $273 million set in 2009. Still, with a plethora of family films, blockbusters and Oscar contenders to please virtually every audience, the holiday season will hopefully gain momentum as we head into the final month of the box office year.
In other notable news, Fox's "We Bought a Zoo" starring Matt Damon had approximately 800 sneak previews with sellouts in markets on both coasts as well as the middle of the country – from New York to LA, Minneapolis to Memphis, Salt Lake City to Boston, Detroit to Orlando, Philly to Kansas City.
According to the studio, reactions were fantastic/through the roof with laughter and tears being the common denominator. Audiences were multi-generational, both family and non-family alike. Cameron Crowe's latest directorial effort will provide a solid entry in the Holiday Movie sweepstakes.
Weekend Box-Office
Top Movies for Weekend of November 25, 2011 (Estimates)
Movie F-S-S Gross Total to Date
1 The Twilight Saga: Breaking Dawn – Part 1 (PG13) $42.0M $221.3M
2 The Muppets (PG) $29.5M $42.0M
3 Happy Feet Two (PG) $13.4M $43.8M
4 Arthur Christmas (PG) $12.7M $17.0M
5 Hugo (PG) $11.35M $15.4M