The 10 Worst Singing Performances in Movies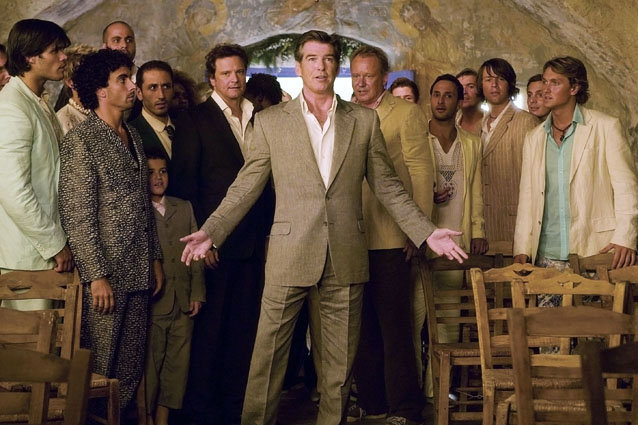 Universal Pictures via Everett Collection
There are some actors that we love to hear sing. In fact, we've compiled a list of a few performers' voices that we can't get enough of. Then there are others that really just shouldn't be given the opportunity to sing on screen. Some of them are truly terrible and some others are just misguided, but here's our look at the worst singing performances in movies.
There's a reason that they used to dub actors' singing voices in musicals (Hello, Marnie Nixon!), and Brosnan is the poster child for revisiting the practice. He looks terrific in the Mediterranean locales and linen suits of Mamma Mia!, but his singing is bad enough that it almost deserves its own separate category.
It's hard to know exactly what the producers were thinking when they cast Crowe in Les Miz, beyond just that he sort of looks right for the role of Inspector Javert. He certainly doesn't sound right. Most of the rest of the cast can legitimately sing, so tossing the Gladiator star into the mix was all the more jarring.
There are actually worse vocal performances in Tim Burton's film about the "Demon Barber of Fleet Street"… Alan Rickman and Helena Bonham Carter to name two. The issue with Depp's singing is that he can't seem to figure out what to do with his accent. Sometimes it's there, sometimes it's not, and sometimes it morphs into a little bit of Keith Richards/Jack Sparrow.
Alec Baldwin, Rock of Ages, or…
…Tom Cruise, Rock of Ages
We tried to pick which was worse… Baldwin singing "I Can't Fight This Feeling" with Russell Brand or Cruise singing "I Want to Know What Love Is" with Malin Akerman. There was no consensus since they're both about as bad as anything you'll ever see in a movie musical. Feel free to watch them and see if you can decide… if you can make it all the way through either one. 
Drew Barrymore, Music and Lyrics
We love Barrymore, really we do. She's adorable and sweet and we like having her around. It's just that her voice is a little too thin for her to be singing on camera. We thought so in Woody Allen's Everyone Says I Love You and we thought the same thing in her rom-com with Hugh Grant.  
Michael Caine, The Muppet Christmas Carol
Okay, so it's a Muppets movie, we get it. Kermit and Miss Piggy aren't the best singers either. But both Tina Fey and Amy Adams have proven that just because you're surrounded by felt doesn't mean that you have to sing poorly. In the grand tradition of British stage actors, Caine just kind of talks his way through his singing parts. Not all traditions are good.
Cameron Diaz, My Best Friend's Wedding
Yes, the script called for her to be intentionally bad… and, by that standard, this is a dynamite performance. You know that you're in a rom-com when the crowd at a karaoke place starts going nuts for someone butchering a Dusty Springfield song.
Edward Norton, Everyone Says I Love You
This is kind of a shame, because it's clear that Norton really enjoys singing. He tosses himself into the musical performance with gusto, treating it like it's the prison cell scene from Primal Fear… which is what makes him such a good actor. It just doesn't make him a good singer. Based on Keeping the Faith and his Motorola commercial, however, it does seem like he'd be more fun at a karaoke bar than Diaz.
Adam Sandler, The Wedding Singer
Here's the mistake that a lot of people make… just because Sandler sings a lot doesn't mean that he's a good singer. We admire the fact that he likes to do it and we laughed at "The Turkey Song" and "The Hanukkah Song" on Saturday Night Live, same as everyone else… but there are limits to how much of Sandler's man-child voice that we can take. He is, however, welcome to continue serenading Barrymore once every 10 years as he did recently on The Tonight Show with Jimmy Fallon. Sometimes even bad singing is sweet.