You Know You Can't Wait For 'The Best Man Holiday'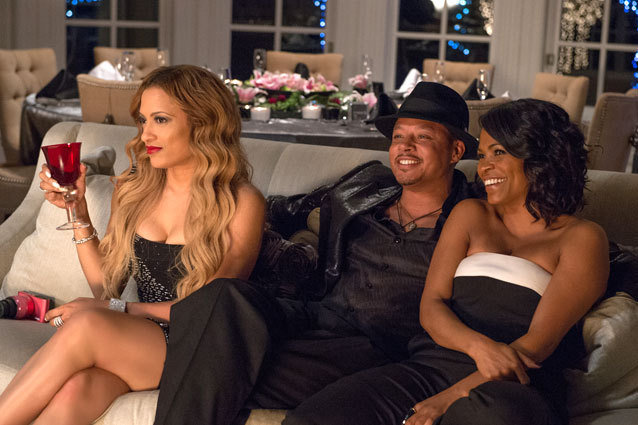 Universal Pictures
Is the universe ready for a sequel to the 1999 hit movie The Best Man? Yes. Yes, we finally are. A few months back the trailer for The Best Man Holiday hit the internets and for those of us who never get tired of the glorious faces of Morris Chestnut and Nia Long, it was a pretty good day. As the November 15th premiere date approaches, let's review the trailer and mentally prepare for the awesomeness headed our way.
So here's what we've learned so far.
Everyone Is Still Hot
Seriously! Did these people age at all? No, no they didn't. The entire cast looks as hot as they did back in '99! Between Chestnut, Long, Taye Diggs, Sanaa Lathan and pretty much everyone else, there's enough eye candy for all.
Speaking of Candy…
Candy the stripper (played by actress Regina Hall) is back and all cleaned up! Looks like she's gone good while Julian's crazy ex Shelby has gone bad. That bedroom scene with Terrence Howard's character is going to be all kinds of epic. 
Nia Long Trades In Dark Chocolate For White Chocolate
So, Long's character Jordan is an interracial relationship with hottie Brian McDaniels (played by real-life hottie Eddie Cibrian). Harper may or may not approve, but we're totally and completely into it.
There's A Synchronized New Edition Performance Going On
Did you catch that moment at the 1:30 mark where all the guys started doing their Can You Stand The Rain thing and panties were thrown? We expect that this scene alone will be worth the price of admission.
More:
Check Out 'The Best Man Holiday' Trailer
Are Rom-Coms Changing For Good?
Celebrity Cameos In 'Don Jon'
---
From Our Partners:


40 Most Revealing See-Through Red Carpet Looks (Vh1)


15 Stars Share Secrets of their Sex Lives (Celebuzz)