'The Book Thief' First Look: How Markus Zusak's Novel Became a Likely Oscar Contender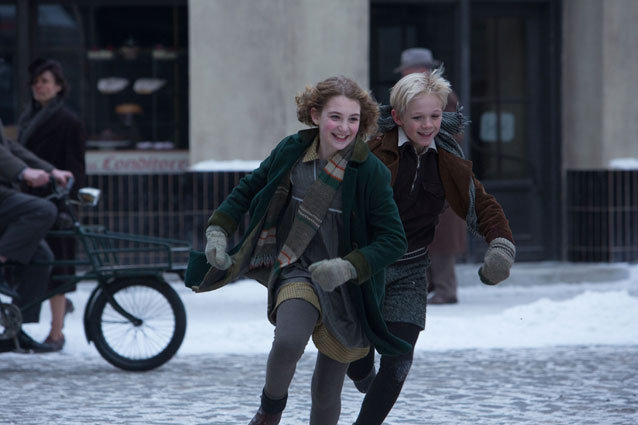 20th Century Fox
Markus Zusak didn't expect for his 2006 novel The Book Thief to get published. Let alone become a New York Times #1 Bestseller. Let alone receive a major movie adaptation by 20th Century Fox that's already getting Oscar buzz two months before its Nov. 15 release. "I thought no one would read it," Zusak says. "I mean, how would someone describe it to their friends? 'Well, it's set in Nazi Germany. It's narrated by Death. There's a high body count. And it's 580 pages long. You'll love it!'"
Anyone who's read The Book Thief — and it turns out many, many people have — knows it's the staggeringly ambitious story of Liesel Meminger, a ten-year-old girl separated from her communist mother and forced to live with foster parents Hans and Rosa Hubermann in the small German town of Molching. The year is 1939. Adolf Hitler and the Nazi party control Germany and are about to begin marching across Europe. It's appropriate, then, that the novel is narrated by Death. But this isn't any skeletal Grim Reaper with sickle or scythe. He's a wry, relatively good-natured chap with a job to do. Death shows us Liesel's experiences leading up to and during World War II: how her foster father Hans teaches her how to read a book she stole, the way she settles in to life in Molching, interacts with other kids her own age, and helps hide the son of a Jewish man who fought alongside Hans in World War I in the cellar of her foster parents' home, just as the full savagery of the Holocaust begins. What Zusak conjures is truly unique: a panoramic view of life in a German town during World War II, a Mrs. Miniver story set on the other side.
The Book Thief is the stuff of great drama, but let's face it…most movie adaptations of novels about adolescent girls these days feature vampires, werewolves, and witches, not Nazis. "The Book Thief was always at the forefront of my mind," producer Karen Rosenfelt says. "I really wanted to get this made even while I was working on other projects like Twilight." Rosenfelt has produced some of the highest-grossing movies geared to young people in recent years, including all five of the movies based on Stephenie Meyer's vampire saga. But The Book Thief became a true passion project for her and she wanted its movie adaptation to share two qualities of the book: authenticity and honesty.
Zusak's book is incredibly detailed, and it's easy to see why: his parents grew up in Germany during World War II before eventually emigrating to Australia. "The best research for the book was my whole childhood, really," Zusak says. Oscar-winner Geoffrey Rush, who Rosenfelt tapped to play the loving Hans Hubermann, adds, "It's such a personal story, because Markus developed the idea for The Book Thief from the stories his parents told him about living in Nazi Germany. So even though it seems like such a different world, there's this level of detail he brings to it that makes it feel lived-in enough that anybody can relate to it." Zusak's parents also peppered their conversation with hyperlocal insults like the word "saumensch," featured prominently in the book. In fact, Zusak even based Liesel's personality in part on his mother's. "I think it's very fresh," Rush says. "I wasn't aware of the book when I was sent the screenplay, then read the book after having read the screenplay and thought [screenwriter] Michael Petroni did a really honorable transposition of it. It has such a whimsical, sardonic, poetic, existential sensibility…and it's very blunt."
So to match the book's level of authenticity, Rosenfelt hired director Brian Percival, who's worked on much of Downton Abbey, and insisted on shooting the movie in Germany. But there were still many challenges for the filmmakers to unpack. First, there was the matter of the book's length. "It's close to 600 pages, so it was tough to figure out what to leave on the cutting room floor," Rosenfelt says. Among the things that have been changed from the book to the movie, Hans and Rosa are now childless. In the book, their son was a pretty fanatical Nazi. "One thing we couldn't cut? Death's voiceover," Rosenfelt says. "We knew we wanted that from the start. But voiceover is a tricky thing. You never want too much of it or for it to take you out of the film. It should be seamless." Producer Ken Blancato adds, "You shouldn't be going 'Wait, is that Morgan Freeman?'" The voice actor for Death still hasn't been announced yet, but it'll be the critical thread to link the many years of the story together.
There's also the challenge of aging Sophie from a 10-year-old to a 17-year-old over the course of the movie. Thousands of girls auditioned for the role, but it was 13-year-old Canadian actress Sophie Nélisse (Monsieur Lazhar) who won out. The Book Thief makeup team then worked to shade her face in such a way to convey Sophie aging. "I wanted to go for the full Benjamin Button effect," Nelisse jokes.
However, figuring out the basic challenges of adapting the book and casting one actress to inhabit Liesel as she grows from a child into a young woman was just the beginning in creating The Book Thief.
For part two of our behind-the-scenes look at The Book Thief, about how director Brian Percival, production designer Simon Elliott, and costume designer Anna B. Sheppard brought the world of the book to life, click here.
More:
'The Book Thief': Watch the Emotional Trailer for Geoffrey Rush's Likely Oscar Contender
'Downton Abbey' Director Takes on 'The Book Thief'
'The Counselor' Trailer Asks Us All: Have We Been Bad?
---
From Our Partners:


A Complete History Of Twerking (1993-2013) (Vh1)


15 Stars Share Secrets of their Sex Lives (Celebuzz)