The Creepiest Songs in Movies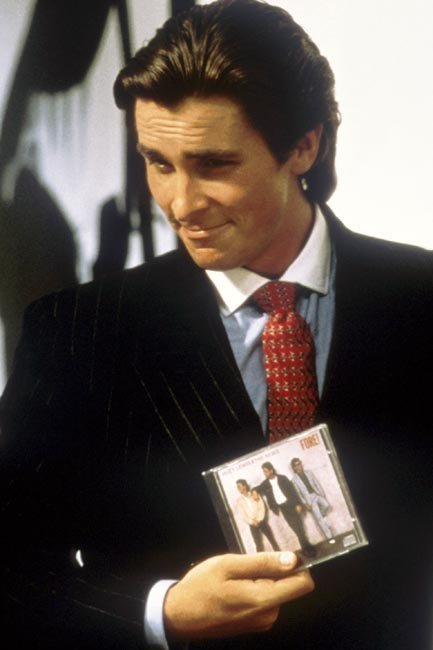 Lionsgate via Everett Collection
There are certain songs that transport you back to movie scenes as soon as you hear them. Sometimes that makes you feel warm inside, sometimes it inspires you, and other times it gives you the willies. We're taking a look at the songs that we can't help but associate with the big screen, toucing on the best love songs in films and the most inspirational songs in movies. Here, though, we take a look at the pop songs that suddenly became creepy once these movies got ahold of them.
"Hip To Be Square" in American Psycho
Who knew that ax-wielding psychopaths dig Huey Lewis and the News (as well as Phil Collins)? At least Christian Bale took the time to make sure not to mess up his killer designer suit.
"Stuck in the Middle with You" in Reservoir Dogs
From Steven Wright's deadpan introduction on the radio to Michael Madsen's dancing to Stealers Wheel's lone hit, everything is unsettling in Quentin Tarrantino's ear-splitting scene.
 "Tiptoe Through the Tulips" in Insidious
If you're old enough to remember him, than you already know that Tiny Tim was plenty scary on his own. Adding some nightmare-inducing marionettes to his ukulele strumming is just not fair.
"Hurdy Gurdy Man" in Zodiac
Donovan was just singing about a guy playing an odd musical instrument… we're pretty sure that he wasn't looking to provide a theme song for a serial killer. David Fincher used it to such effect in his film that others followed, turning it into the go-to '60s track for creeping everyone out.
 "Jessie's Girl" and "Sister Christian" in Boogie Nights
It's not a horror movie, or even a thriller, but when Alfred Molina starts smoking crack in his underwear to his mix-tape of Rick Springfield and Night Ranger it certainly is enough to weird anyone out. We jumped right along with Mark Wahlberg and John C. Reilly every time a firecracker went off.
"In Dreams" in Blue Velvet
The granddaddy of them all. David Lynch's movie is disturbing on any number of levels, but the scene of Dennis Hopper's sexual deviant beating the snot out of Kyle MacLachlan while Roy Orbison's voice pipes out of a car radio has been the basis for too many night terrors to count.
"Girl, You'll Be a Woman Soon" in Pulp Fiction
The first time that you see it there isn't anything wrong with Uma Thurman dancing around to the Urge Overkill remake of a Neil Diamond song while John Travolta gives himself a bathroom pep talk. It's on the repeat viewings when you know what's going to happen afterwards that it makes you a little uneasy (especially if you're afraid of needles).
"I've Got You, Babe" in Groundhog Day and "We've Only Just Begun" in 1408
The Carpenters and Sonny and Cher are about as innocent as you can possibly get when it comes to pop music… and the two films are not anything alike. With that said, if we are ever in a hotel and the stupid clock radio starts repeatedly playing a song on its own, we're checking out right then and there. And, if the song is John Denver's "Rocky Mountain High," the tipoff to impending death in the Final Destination movies, we're running as fast as we can.