Review: 'The Croods' Works, But It Isn't Reinventing the Wheel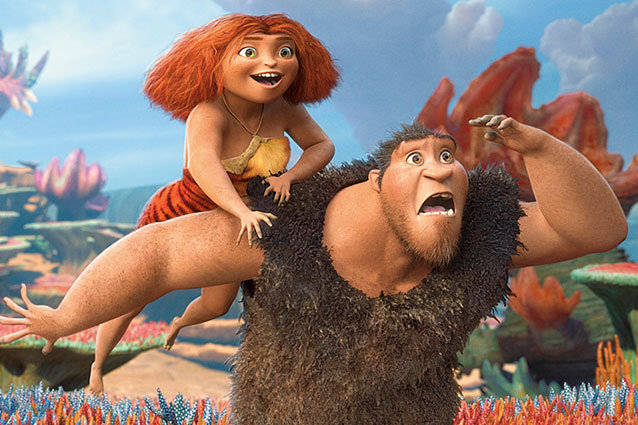 The Croods will entertain smaller children with its bright colors and funky animal creations, but anyone looking for more than that will be sorely disappointed. The plot is, shall we say, crudely simple: A family of cave-dwellers must abandon their way of life when the tectonic plates shift, causing a ripple effect of natural disasters that threaten not just their cave but their lives. The future beckons, and the Croods' guide is Guy (Ryan Reynolds), a slightly more evolved human who knows about things like fire, shoes, and belts — specifically, a sloth named Belt who holds his pants up and acts as adorable comic relief. Guy also serves as a romantic interest for our heroine Eep (Emma Stone) and the burr in Daddy Crood's backside, an old school Neanderthal type with a low-hanging brow and a fiercely overprotective nature.
The push/pull dynamic of the Croods' fear of the future and desire to learn more about Guy's world (and also not die) is a decent foil to the more personal tension between our heroine Eep and her dad Grug (Nicolas Cage). In this world, sneaking out at night could lead to certain death, and the family has only survived so far because Grug is strong and cautious. "Fear keeps us alive. Never not be afraid," he tells his family, just in case we didn't get the point.
RELATED: 'The Croods' Star Emma Stone Teaches Ryan Reynolds What a Gif Is — Video
Eep is at that shaky time in a teen girl's life where she's still her daddy's baby but also longs for sunshine and adventure and love. Guy's the one who urges them towards a mystical place called Tomorrow, and eventually Grug's gotta decide if he wants to keep up with the times or stay behind. The majority of the movie consists of the Croods mock-fighting with each other and chasing or being chased by large animals, strung together by hollow emotional interactions between the characters. The story itself has promise, but its execution is lacking.
The strangest thing about The Croods is that its talented voice cast is so bland as to be unrecognizable. The charming Stone is lost behind her character's muddy identity, which switches between a present-day teen and a Neanderthal with overpowering strength and the ability to walk and run on her hands and feet. Keener's character Ugga, Eep's mom, is nearly invisible, and mostly serves as a body to transport the obnoxious toddler Sandy. Cloris Leachman voices Gran, a character that allows writers/directors Kirk De Micco and Chris Sanders (Space Chimps) to flex their Catskill-era comedy skills when it comes to jokes about mother-in-laws that are too mean or stubborn to die.
Thankfully, The Croods does offer viewers something to look at while the characters go on their interminable trip. Although the Croods and Guy themselves leave something to be desired in terms of design, the environments they travel through are inventive, wildly colorful, and fun. Granted, we're not talking about a ParaNorman-like attention to detail, but it's something to look at while you're biding your time. The animals they encounter are strangely cute, too, like the weird Corgi/alligator that Thunk Crood (Clark Duke) adopts and named Douglas. The 3D is fine and doesn't feel like too much of a rip-off, but it's not necessarily going to blow your mind. Still, there's something missing if the most interesting and memorable thing in your movie is a pink sloth that doubles as a belt. Hopefully, parents are ready to hear their little ones imitate Belt's "Dun dun DUNNNN!" and buy all the Belt-branded merchandise sure to follow.
2.5/5
---
You Might Also Like:


15 Oscar-Winning Nude Scenes


Young Jack Black Is Totally Unrecognizable