The Fannings vs. The Olsens: Which Are the Better Sisters?
Is there a reason all coming of age movies are set during summer? The latest in the genre, Very Good Girls, stars Dakota Fanning and Elizabeth Olsen as two young women dealing with the usual teenage roadblocks: out of touch parents, dreamy crushes, creepy Peter Sargaard, and the everpresent issue of heading off to college as virgins. During their last summer together before the rest of their lives, the two make a pact to lose the V-card that's been burning a hole in their pockets, but both girls start making googly eyes at the same guy. Very Good Girls sounds like the inverse of the countless raunchy high school comedies where young men want to lose their virginity before going off to college like their loins are timed explosives. In any case, Very Good Girls looks like a poignant indie drama.
Both Olsen and Fanning come from two very different acting families, and both families have weathered career ups and downs over the years. We've decided to compare the two sets of sisters to see who comes out on top.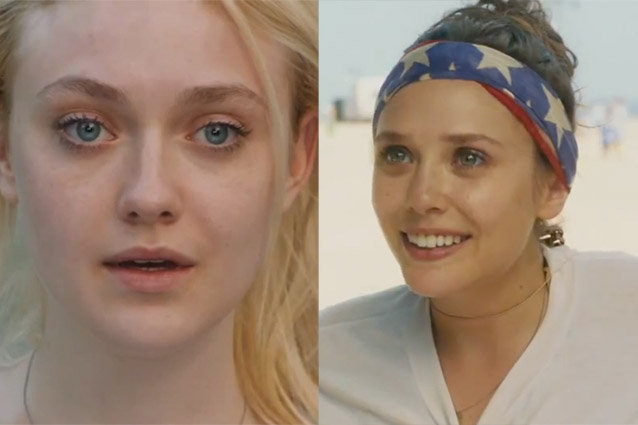 YouTube/JoBlo Movie Trailers, Tribeca Film
THE OLSENS
Members: Elizabeth, Mary Kate, and Ashley
Pros: Full House of course! During the back half of the '80s and even the early '90s, the Olsen twins were America's favorite toddler, and that nation/toddler relationship blossomed until about the time Michelle Tanner started speaking… and then we never ever wanted to see her ever again. You don't got it dude. But those few silent years of Full House were comforting and safe, just like any family sitcom should be.
Elizabeth on the other hand has improbably managed to step out of the shadow of her famous sisters and become a full-fledged actor. Critics sung her praises in films like Martha Marcy May Marlene, and the actress won numerous accolades for her acting ability. She also recently starred opposite a Aaron Taylor-Johnson in mega-blockbuster Godzilla. If that wasn't enough, Olsen is starring in next summer's Avengers: Age of Ultron, which will probably be the biggest movie ever… or at least until Avengers 3.
Cons: Full House giveth and Full House taketh away. We had to endure several years of twin themed nonsense from the elder Olsens, and there were enough TV movies and direct to video shenanigans to take up an entire section of Planet Video back in the day. Soon enough, the world grew tired of the Olsen twins and their songs about pizza, and  their mystery solving, and whatever else they used to do. Despite their efforts, they softly faded out of public consciousness and into NYU. As for Elizabeth, there's nothing bad to say about her so far. Sure, she wasn't given much of anything to do in Godzilla, but that's not her fault, Godzilla was too busy crushing everything.
THE FANNINGS
Members: Dakota and Elle
Pros: The Fannings were never a genuine media sensation like the Olsens were. Their stars never shone as bright. But that also means that their careers didn't have a chance to supernova. Both young actresses transitioned from child star to bona fide actor rather painlessly, and have built their careers on a mix of smaller films and bigger blockbusters to keep people from pigeonholing them. The Fanning longevity and the demise of the Olsen twins can likely be contributed to the fact that the Fannings were always actresses first, and cutesy tiny people second, and their roles reflected that. Now, instead of only one member of the Olsen family steadily working in film, the Fannings have two. Case in point: Elle Fanning just appeared in Maleficent opposite Angelina Jolie.
Cons: For a couple of years in the mid 2000s it did feel like Dakota Fanning was the only working child actress, and she came close to feeling overexposed. Luckily Chloe Moretz came just in the nick of time to give us a breather. Other than that, neither actress has been terribly ambitious with her role choices. Neither Fanning has a role as universally praised as Elizabeth Olsen's turn in Martha Marcy May Marlene, but even if they lack a genuine career high point, they make up for it in general consistency. The Fannings never disappeared of the face of the earth like the Olsens did for a few years. 
WINNER
We have to give it to the Fannings. Elizabeth Olsen certainly has more star power than either Fanning right now, but she's only one person. The Olsen twins have mostly left Hollywood behind, and one person does not an acting family make. Conversely, both Elle and Dakota Fanning have put in consistently solid work over the years, and it helps that their fame never rested on a twin gimmick.