Review: 'The Grand Budapest Hotel' Is Flawless — Funny, Touching, Shocking, and Truly Adventurous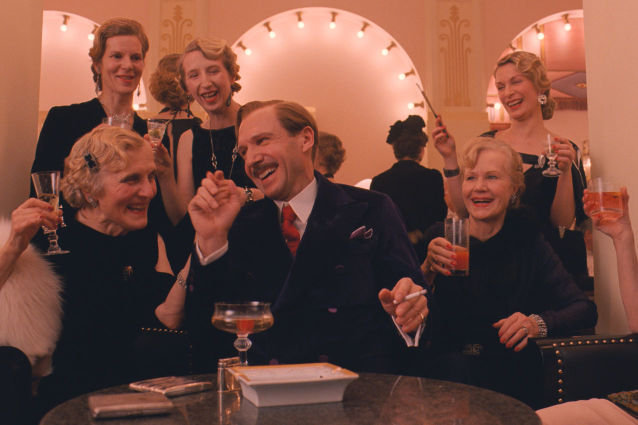 Fox Searchlight
You don't arrive at the Grand Budapest Hotel without your share of Wes Anderson baggage. Odds are, if you've booked a visit to this film, you've enjoyed your past trips to the Wes Indies (I promise I'll stop this extended metaphor soon), delighting especially in Rushmore, The Royal Tenenbaums, and his most recent charmer Moonrise Kingdom. On the other hand, you could be the adventurous sort — a curious diplomat who never really got Anderson's uric-toned deadpan drudgings but can't resist browsing through the brochures of his latest European getaway. First off, neither community should worry about a bias in this review — I'm a Life Aquatic devotee, equally alienating to both sides. Second, neither community should be deterred by Andersonian expectations, be they sky high or subterranean, in planned Budapest excursions. No matter who you are, this movie will charm your dandy pants off and then some.
While GBH hangs tight to the filmmaker's recognizable style, the movie is a departure for Anderson in a number of ways. The first being plot: there is one. A doozy, too. We're accustomed to spending our Wes flicks peering into the stagnant souls of pensive man-children — or children-men (Moonrise) or fox-kits (guess) — whose journeys are confined primarily to the internal. But not long into Grand Budapest, we're on a bona fide adventure with one of the director's most attractive heroes to date: the didactic Gustave H. (Ralph Fiennes mastering sympathetic comedy better than anyone could have imagined he might), who invests his heart and soul into the titular hotel, an oasis of nobility in a decaying 1930s Europe. Gustave is plucked from his sadomasochistic nirvana overseeing every cog and sprocket in the mountaintop institution and thrust into a madcap caper — reminiscent of, and not accidentally, the Hollywood comedies of the era — involving murder, framing, art theft, jailbreak, love, sex, envy, secret societies, high speed chases… believe me, I haven't given half of it away. Along the way, we rope in a courageous baker (Saoirse Ronan), a dutiful attorney (Jeff Goldblum), a hotheaded socialite (Adrien Brody) and his psychopathic henchman (Willem Dafoe), and no shortage of Anderson regulars. The director proves just as adept at the large scale as he is at the small, delivering would-be cartoon high jinks with the same tangible life that you'd find in a Billy Wilder romp or one of the better Hope/Crosby Road to movies.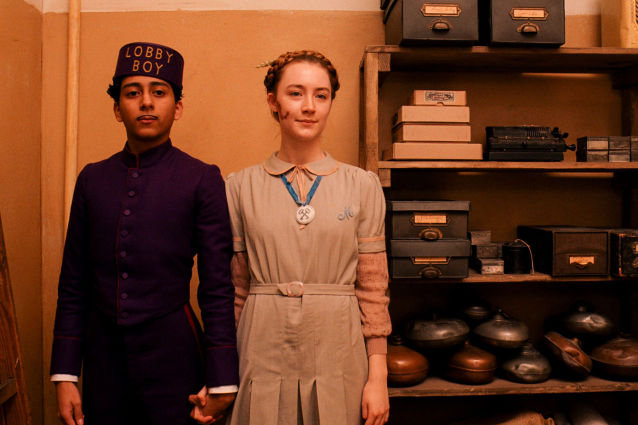 Fox Searchlight
Anchoring the monkey business down to a recognizable planet Earth (without sacrificing an ounce of comedy) is the throughline of Gustave's budding friendship with his lobby boy, Zero (newcomer Tony Revolori, whose performance is an unprecedented and thrilling mixture of Wes Anderson stoicism and tempered humility), the only living being who appreciates the significance of the Grand Budapest as much as Gustave does. In joining these two oddballs on their quest beyond the parameters of FDA-approved doses of zany, we appreciate it, too: the significance of holding fast to something you believe in, understand, trust, and love in a world that makes less and less sense everyday. Anderson's World War II might not be as ostensibly hard-hitting as that to which modern cinema is accustomed, but there's a chilling, somber horror story lurking beneath the surface of Grand Budapest. Behind every side-splitting laugh, cookie cutter backdrop, and otherworldly antic, there is a pulsating dread that makes it all mean something. As vivid as the worlds of Rushmore, Tenenbaums, Fantastic Mr. Fox, and Moonrise might well have been, none have had this much weight and soul.
So it's astonishing that we're able to zip to and fro' every crevice of this haunting, misty Central Europe at top speeds, grins never waning as our hero Gustave delivers supernaturally articulate diatribes capped with physically startling profanity. So much of it is that delightfully odd, agonizingly devoted character, his unlikely camaraderie with the unflappably earnest young Zero, and his adherence to the magic that inhabits the Grand Budapest Hotel. There are few places like it on Earth, as we learn. There aren't many movies like it here either.
5/5