Does 'The Grand Budapest Hotel' Trailer Show Wes Anderson's Quirkiest Film Yet?
Wes Anderson has such a distinctive style and tone to his films that it's possible to identify one of his projects within a few frames. In fact, his style is so uniquely recognizable that it causes normally eloquent reporters to simply describe a film as being "very Wes Anderson." Unfortunately, that is a trope that we will have to employ once again, because the director's latest film, The Grand Budapest Hotel, with its expansive cast of quirky, slightly off characters and the hijinks they get up to just may be, well, the most "Wes Anderson" of his films to date. 
Set in between the two World Wars, The Grand Budapest Hotel follows the adventures of Gustave H (Ralph Fiennes), the legendary concierge who runs the hotel and is particularly beloved by the rich older women who frequent it, and his confidante and protegee, lobby boy Zero Moustafa (Tony Revolori). The two find themselves mixed up in the thievery and eventual recovery of a priceless painting, and caught in the middle of the battle for a massive family fortune. The film also stars an enormous ensemble cast, bringing together repeat players like Bill Murray, Jason Schwartzman, and Adrien Brody with those who are making their Anderson debuts, such as Saoirse Ronan and F. Murray Abraham.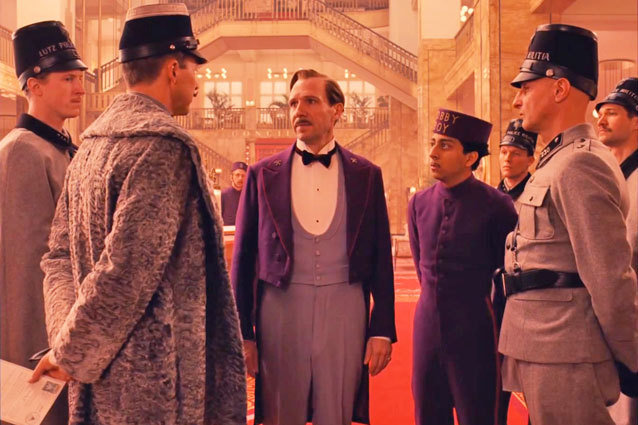 Fox Searchlight
Based on the trailer, the film appears to be a coming-of-age-tale with an eccentric twist, much like Anderson's recent Moonrise Kingdom, and will likely be a breakout role for Revolori, whose nervously deadpan delivery works well with he offbeat plot. However, it seems as if Fiennes will be the real scene stealer here. Between his constant drawling of the word "darling" and the perfectly timed sprint away from the authorities, Fiennes will be able to showcase his comedic talents in a way that the typically dramatic actor hasn't gotten to before. It seems as if the two leads will play off of each other well, and even in the trailer, their scenes together are a delight to watch.
Even though it's only his second period piece, the European, 1920s setting seems ideal for Anderson's style, allowing him to play with colors and framing the way he does best. The conceit of the film is not a new one, but by showcasing the oddballs that often populate Anderson's films instead of focusing solely on the battle for the painting, he creates something more fun, colorful – even more twee – than other hiest movies or family dramas that are coming out soon. Although, honestly, the director has amassed such a dedicated following that even if he wasn't attempting to subvert or reinvent anything, it would most likely do well with critics and fans. 
The Grand Budapest Hotel opens in theaters on March 7, 2014.