The Most Inspirational Songs In Movies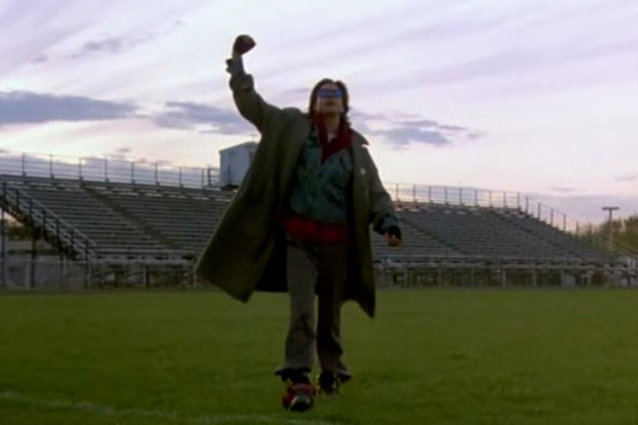 Universal Pictures
There are certain songs that transport you back to movie scenes as soon as you hear them. Sometimes that makes you feel warm inside, sometimes it inspires you, and other times it gives you the willies. We're taking a look at the songs that we can't help but associate with the big screen, toucing on the best love songs in films and the creepiest uses of pop songs in movies. Here, though, we take a look at the songs in movie scenes that pumped us up and made us ready to face anything the world might throw at us.
"Change" in Vision Quest
Matthew Modine's wrestler scales a peg board while John Waite's hit drives him on. It got our heart pumping in 1985 and some things ain't ever going to change.  
"Eye of the Tiger" in Rocky III
Bill Conti's "Gonna Fly Now" was still used for the training montage in the third Rocky film, but Survivor's chart-topping smash does a nice job of getting things going as Sylvester Stallone pummels some opponents while  Mr. T looks on angrily.
"That Thing You Do" in That Thing You Do
If you've ever wondered what it would be like to hear your song played on the radio for the first time, we're guessing that it would be pretty close to the way that The Wonders react in Tom Hanks' directorial debut. By the middle chorus, you want to jump around with Liv Tyler and Steve Zahn, too.
"Twist and Shout" in Ferris Bueller's Day Off
Okay, so it's a little bit odd that Matthew Broderick's Ferris knows all the words to Wayne Newton's "Danke Schoen," but let's not nitpick. There isn't anyone that wouldn't love to jump on a float and lead all of downtown Chicago in an impromptu musical number set to The Beatles.
"Don't You Forget About Me" in The Breakfast Club
"Does that answer your question? Sincerely, The Breakfast Club." We're all the same deep down was the message of the movie and Simple Minds made it unforgettable. You throw that fist up, Judd Nelson! Throw it up high!
"Tiny Dancer" in Almost Famous
We've all been there… you're sick of your life and your friends and everything else. Then the perfect song comes on the radio and things melt away. Cameron Crowe managed to meld Kate Hudson and Elton John into the perfect antidote for the tedium of a tour bus.
"Footloose" in Footloose
"Let's dance!" Kevin Bacon screams just before Kenny Loggins' hit starts the joyful teen toes tapping in the '80s megahit. We're still not sure how all of them know how to breakdance since it was banned just before that, but we still dance along with Chris Penn's rhythmically challenged Willard anyway.
"You're the Best Around" in The Karate Kid
How can Ralph Macchio's Daniel possibly beat the Cobra Kai? With the love of Elisabeth Shue and the help of Joe Esposito's rousing pop ditty, of course. Not even the great William Zabka is a match for that.  
 "Danger Zone" in Top Gun
Loggins was the master of the soundtrack in the '80s when seemingly every movie had to have a hit song attached to it. No matter what you think of the jingoistic message of the Tom Cruise classic, it's hard not to get a little bit pumped up as he flies off into the danger zone.
"Maniac" in Flashdance
Sure, we all know that Jennifer Beals had a butt-double for the famous running in place dance warm-up set to the Michael Sembello song, but the combination of music and action made it a butt worth striving for. Years later, it still makes you want to run out and take a spin class.
"My Sharona" in Reality Bites
Janeane Garofalo's bangs are still just as unfortunate now as they were in 1994, but we still want to dance when she leads Winona Ryder and Steve Zahn into the impromptu convenience store dance party upon hearing The Knack classic on the radio.
"I Got a Name" in Django Unchained
Only Quentin Tarantino would think to stick Jim Croce's 1973 hit in a movie set in the 1800s, but as Jamie Foxx and Christoph Waltz ride off to fight injustice, we all know that the former slave has a name and that name is Django.
"Let It Go" in Frozen
If there's a more rousing ode to girl power than Idina Menzel's instant classic from the Disney smash, we haven't heard it.