'The Hangover 3' Brings the Wolf Pack Back to Las Vegas — TRAILER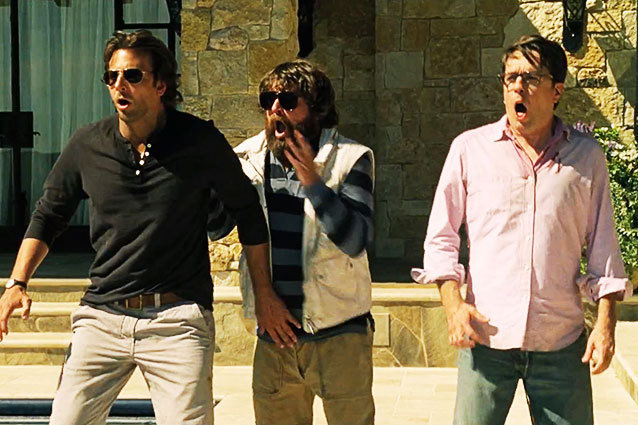 The wolf pack is… oh jeez, you get the idea already.
While the first trailer for The Hangover: Part III doesn't give away too much about the plot of the final chapter in Todd Phillips' drunken debauchery saga, how much could there actually be to give away, really? It's a safe bet the third installment will follow a similar formula as they first two Hangover movies: the guys will get drunk, do something terrible, forget about what happened, piece it back together, get away scot free, hilarity will ensure, and it will make buckets upon buckets of money. 
RELATED: Bradley Cooper Beats the S**t Out of Zach Galifianakis on 'Between Two Ferns' 
Still, there are some other things we picked up on from the trailer (which comes a day after those inspired Harry Potter-like posters were released), other than the fact that Phil, Alan, Stu (played by Bradley Cooper, Zach Galifianakis, and Ed Helms, respectively), Jade (Heather Graham) and unfortunately, the grating one-note Mr. Chow (Ken Jeong) are all back for more shenanigans at the original scene of the crime(s), Las Vegas. Just as Justin Bartha recently revealed to Hollywood.com, "You'll get a lot of the characters that have been in the first two movies back in the third one."
RELATED:'The Hangover Part III' Poster Gets a 'Harry Potter' Makeover 
It appears as though Doug's father-in-law Sid (Jeffrey Tambor) bites the big one, the fellas have gotten into trouble with mask-wearing gangsters (who John Goodman seems to be in charge of), a lollipop enthusiast (Melissa McCarthy) swaps spit with Alan, there's a prison outbreak, and Alan has an unexpectedly beautiful singing voice. Oh, and he buys a giraffe. Those wacky grown men!
RELATED:Zach Galifianakis Says 'The Hangover 3' Will Be Different
When will they ever learn?! Ah, right, never… but technically on May 24, when The Hangover: Part III hits theaters. Watch the preview here: 
Additional reporting by Leanne Aguilera
[Photo credit: Warner Bros. Pictures]
---
From Our Partners:


40 Most Revealing See-Through Red Carpet Looks (Vh1)


15 Stars Share Secrets of their Sex Lives (Celebuzz)