'The Help' Oscar Nominee Octavia Spencer Goes Sci-Fi for 'Snow Piercer'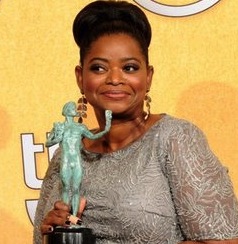 When buzz first started piling up for Octavia Spencer's role in The Help, some called it a fluke. Up until 2011, the actress had mostly appeared in small supporting comedy roles (Dinner for Schmucks) or nameless character parts in horror flicks (Halloween II). Everyone wondered: if Spencer was the real deal, why would she have gone under-appreciated for so long?
Looks like it was just a matter of giving her a chance. With The Help (where she's pegged to pick up an Oscar) and her encouraging performance in the Sundance favorite Smashed under her belt, Spencer is using the career boost for all its worth, and she's already lined up her next big profile role. Spencer will join Chris Evans, John Hurt and Tilda Swinton in Korean director Bong Joon-Ho's (who directed The Host, one of the best monster movies ever) sci-fi flick Snow Piercer. The movie follows a group of people trapped on a train that travels perpetually around the world, keeping its inhabitants protected from a new ice age. The survivors form a social class system that quickly erupts into revolution.
Snow Piercer sounds like heady sci-fi and a real departure for Spencer, who will play a mother who joins in on the conflict in order to save her son. For someone who has worked her butt off to prove her acting chops to typecasting Hollywood types, her addition to the cast is big (and wonderful) news. Along with Snow Piercer, Spencer is also set to appear in Diablo Cody's directorial debut Lamb of God. So is this enough evidence that the actresses should be in everything or do we need more?
Source: THR