Watch 'The Host' Stars Jake Abel and Max Irons Explain Their 'Freaky Interspecies' Love Quadrangle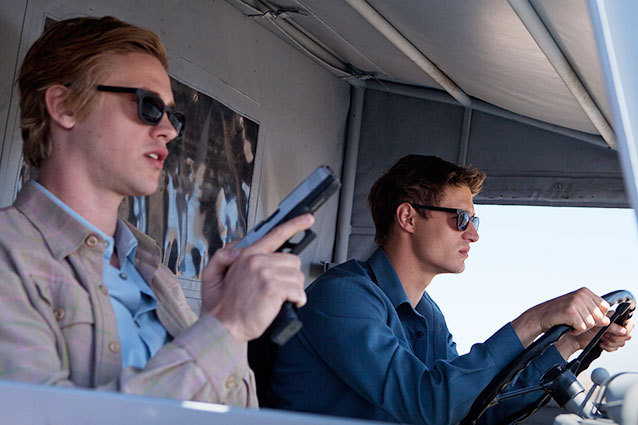 The Host, the new movie based on a book by Twlight scribe Stephenie Meyer, is told from the perspective of human Melanie Stryder (Saoirse Ronan), who has an alien Wanderer living in her brain. Crazy, right? What's even crazier is that there are two different guys in love with her. Well, one is in love with her and one is love with that alien that lives in her brian.  Yes, that is some seriously crazy stuff. But don't fear, Jake Abel and Max Irons, the who play Ian O'Shea (who is after the alien) and Jared Howe (who is after the human) respectively, are here to explain the world's (or actually the universe's) craziest love quadrangle at the center of the sci-fi movie.
"I'm into this," Abel jokes about their supernatural romantic arrangement. "And one of them is not of our species, so there's another freaky element."
RELATED: 'The Host' Star Saoirse Ronan Calls Her Co-Stars 'Very Talent Kissers'
Irons (the son of Oscar winner Jeremy Irons) agrees that, "There's a bit of interspecies love going on." The boys go on to joke about how they couldn't stand each other during filming. "We weren't even sitting next to each other in these posters," Abel says. "We had to be put there afterward."
"With Photoshop!" Irons explains. Usually when celebs are getting retouched it's for something totally different.
Watch the full interview below to catch Abel and Irons attempt to impersonate director Andrew Niccol, talk about how close the cast became during filming, and give their sci-fi book recommendations: 
The Host is now in theaters.
Reporting by Jessica Courtemanche
Follow Sydney on Twitter: @SydneyBucksbaum
[Photo Credit: Open Road Films]
---
You Might Also Like:


15 Oscar-Winning Nude Scenes


10 Insane 'Star Wars' Moments You Didn't Notice