'The Last Stand': What Will Be This Movie's 'Hasta La Vista, Baby'? — POSTER
For a man whose accent can sometimes stand in the way of effective communication, Arnold Schwarzenegger has pervaded our country's lexicon with a handful of quotable phrases. The Terminator franchise alone has spouted, "I'll be back," "Come with me if you want to live," and the impeccably corny "Hasta la vista, baby," while we've also known the action and comedy star to exclaim, "Do it now!" (Predator), "Tonight, Hell freezes over," (Batman & Robin), and "It's not a tumor!" (Kindergarten Cop).
So what about Schwarzenegger's upcoming action flick, The Last Stand? The movie has just released a new poster, which makes us wonder what kind of grimacing one-liner he'll deliver to rounds of applause this time.
In the film, starring player Schwarzenegger takes the role of an aging sheriff who is charged with a new nemesis in the form of a drug lord on the lam. Alongside his comrades (Jaimie Alexander, Johnny Knoxville, and Luis Guzman), the Gettin'-too-old-for-this-s*** lawman must defend his sleepy Southern town from the interloping criminal. Also on Schwarzenegger's side: a legion of firearms, as you can see in the recent trailer. So in this rootin' and tootin', ostensibly fun-loving action movie, what will Schwarzenegger's new culturally significant new catchphrase be?
We'll just have to wait and see. For now, check out the poster, and catch The Last Stand in theaters this coming January.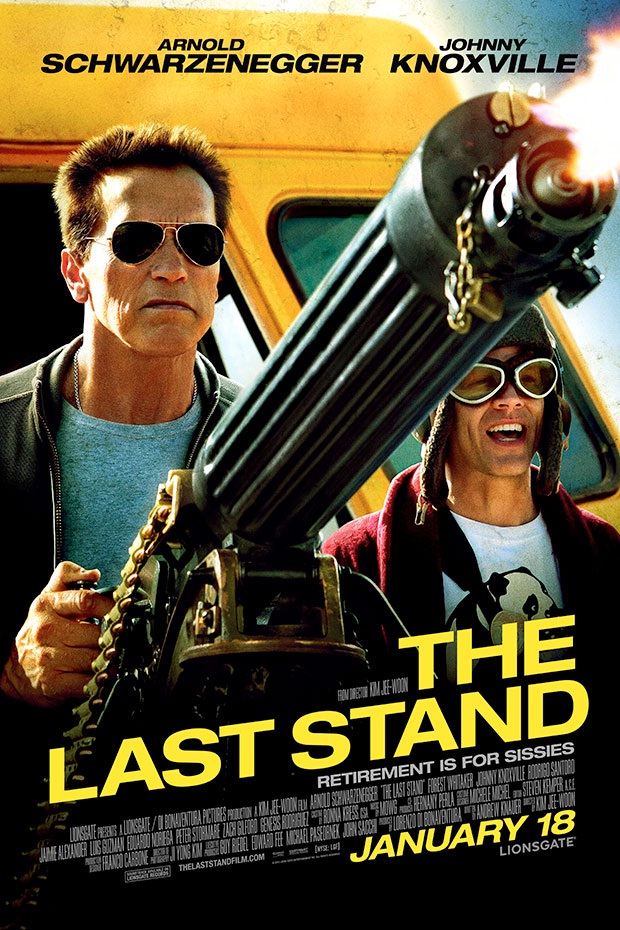 [Photo Credit: Lionsgate]
More:
A 'Book of Mormon' Star to Write 'Triplets' for Schwarzenegger, DeVito, Murphy
How They Made the 'Skyfall' Title Sequence
9 Minutes of 'Star Trek Into Darkness' to Boldly Go in Front of 'Hobbit'
From Our Partners:

'Twilight' Cast Now and Then (PICS) (Moviefone)
How to Be a Bond Director
(Moviefone)