'Mortal Instruments': Lily Collins On Working With Her Real Life Beau and a Different Kind of YA Heroine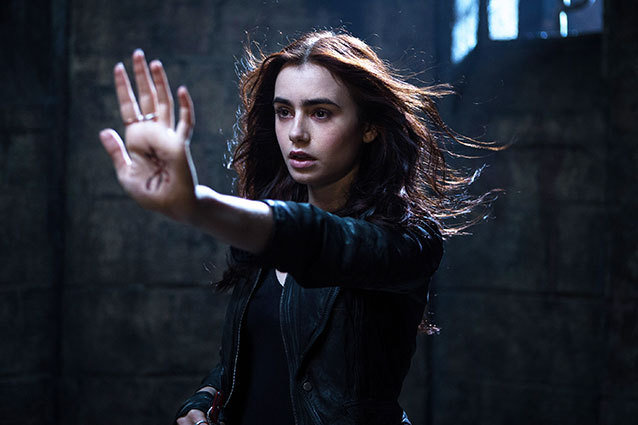 Having your head repeatedly banged against a table by Jonathan Rhys Meyers is all in a days work. At least, it is if you're Lily Collins and you're playing Clary Fray, the protagonist in the long-awaited adaptation of Cassandra Clare's beloved YA saga The Mortal Instruments: City of Bones.
Clary is no ordinary girl (a New York City teen whose world gets turned upside down when she learns about her connection to a group of demon fighters called the Shadowhunters) and Collins is no ordinary Hollywood starlet.
"I've had many experiences on this set of intense, emotional, physical… I'm doing stunts in these [high heels] the whole time, sometimes in a mini dress, so it's been maneuvering myself around the sets. I've gotten so many bruises at 4 in the morning, all hours of the night, so it's been an intense ride, but it's been really fun," Collins told Hollywood.com on the Toronto set of The Mortal Instruments last October.
On this particular day (which marked the 40th day of the TMI shoot) Collins had been filming a scene with Meyers, who plays rogue Shadowhunter Valentine Morgenstern who holds a major key to Clary's past, in which he tries to get an important piece of information from Clary by, well, slamming her head against a table. And while Collins had a stunt double stand in for the actual choreographed act of violence, it doesn't mean the 23-year-old actress didn't get down and dirty for this particular fight sequence.
RELATED: 'The Mortal Instruments: City of Bones' Trailer 
"On that last take, I actually did smack [my head] against the table," she revealed. "It really helps, I have to say, with a lot of the stunt stuff…something is bound to go a little awry, and most of my reactions have genuinely been me saying, 'Ow!' and screaming." Perhaps the main reason why Collins — whose previous credits include Priest, The Blind Side, Abduction, and Mirror, Mirror — was willing to get a little banged up on the job, is because, as she put it, "I was actually a fan of the series before I was cast. Having read the books and being really familiar with Clary, and just kind of admiring her as a character."
Collins' fandom over the project was only matched by her relief of how the movie version of The Mortal Instruments — which had been two years in the making, as the Screen Gems feature had been passed over by Sony and has since undergone frequent rewrites — had turned out. "I think everything happens for a reason because the team we got together for this is so amazing. Everyone has brought something new to the table. Harald [Zwart] is the ultimate director for this project because it's not really his genre, but he's all about character and emotion. And it's taking the project that could have been so CGI-based, and he's made it a story about real people in this fantasy world."
Of course, it probably didn't hurt that the very things that got a fan like Collins excited for the big screen adaptation (the actress said she "got emotional" when she saw the movie's replica of The Institute, a major hub in the story, and that it was "literally is exactly how I pictured it in my head….as a fan, I think the world is encapsulated really, really well") got the approval from Clare, who was on set for filming and worked as something of a consultant. "It's been really great to have her here, see her reaction to stuff and to have her input on the way we are changing up certain scenes for film. Just really hearing her laugh and her enthusiasm on set is really awesome."
Next: Working with her TMI cast mates, including real life love Jamie Campbell Bower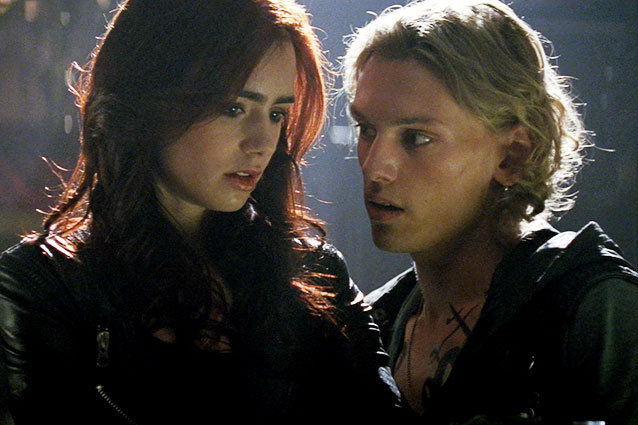 Still, Collins (who producer Don Carbody said is "the most natural I've ever seen" and that "she observes and she lives the character in her own psyche"), credited the collaborative effort of the entire ensemble — which also features Jared Harris, Lena Heady, Kevin Zegers, Jemima Wood, and Robert Sheehan, among others — for making it all come together after all this time. Even the ones that knock her head against a table. "Wit this movie, all the cast have an amazing rapport. It actually makes it really cool because we're all going through this together. Even someone like Jonathan, who is so incredible and so intense and so seasoned, he still likes to have fun as well. And that makes it a really group experience and very family-like."

RELATED: Kevin Zegers as Alec in 'The Mortal Instruments: City of Bones' — EXCLUSIVE PHOTO 

One person Collins certainly liked having on the set of TMI is her real-life beau, Jamie Campbell Bower, who plays her on-screen love interest, a mysterious Shadowhunter named Jace. Collins recalled meeting Bower during the auditions back in 2010. "I read with a couple of different guys. Jamie just came in and… that was it. He was just himself. He had this perfect mixture of being this witty, kind of jokey, cocky in the best sense of the word. But also extremely vulnerable, emotional and this great mixture of emotions. And that's what Jace is. He has to walk in a room and make people turn their heads and that's what Jamie does."

Sure, this could sound all too familiar: an off-screen couple playing a supernatural on-screen couple, but Collins insisted TMI is no Twilight. Especially when it comes to comparing her Clary Fray to that of Bella Swan. "She's thrown a new twist every five minutes and it's this constant battle against herself of, 'How do I overcome this?' Collins said of her character. "She's dealing with creatures that she's never even believed in or thought existed. She's got this new superhero power…she's a teenager growing up trying to discover herself. That's enough of a worry. Now she has to find out she's a Shadowhunter. So I think what makes her different is just this sense she's constantly finding out new information about herself."

Collins also noted that throughout the script's rewrites ("One thing I wasn't expecting on this project is how collaborative it is with the actors and Harald," she admitted, "We're kind of able to reword our own scenes as we go to see how things flow in the moment…and then also having Cassandra here to help clean up things that need to be fine-tailored and stuff) Clary's character has only gotten more fierce and independent.

RELATED: A First Look At 'The Mortal Instruments: City of Bones '

"Clary has become way more proactive since the beginning, since the first script. She really fuels a lot of the scenes. It's less about being thrown all this information and floundering: she gets thrown a lot of information now and she's actively pursuing an outcome. I felt like she's gotten stronger and stronger in the rewrites." But it's not just Clary's strong-willed nature that Collins thinks sets her aside from the YA pack: "She doesn't rely on any guys, but the guys [do] end up helping her discover herself more."

"It's not a movie about a love triangle," the star insisted, regarding the relationship between Clary, Jace, and her platonic pal Simon (Sheehan), "The romance is only one portion of this kind of epic adventure. Yes, it fuels certain scenes and it's an undertone, but it's in no way a love story that has action in it. It's a full-blown action/adventure fantasy film that is based in reality that has this romance in it." Now that's worth fighting for.

[Photo credit: Screen Gems]
---
From Our Partners: 

'Groundhog Day' Cast: Where Are They Now?

Bradley Cooper Dancing Is Surprisingly Awkward