The New Classic Hollywood
With the release of The Tourist today, we're witnessing a moment in Hollywood history; the pairing of two stars that are sure to become icons of tomorrow. Angelina Jolie and Johnny Depp have reached that untouchable level of super glamorous stardom and it was only a matter of time before someone decided to combine their illustrious powers in a full length feature. In celebration of this classic and almost annoyingly gorgeous onscreen couple, let's take a look back at Old Hollywood's best couplings and make a few predictions about who might be next to ascend to the glitzy throne next.

Casablanca, 1942
Classic Couple: Humphrey Bogart and Ingrid Bergman
The modern Humphrey Bogart: Robert Downey Jr.
Now, I know that since you can't say classic Hollywood without thinking Bogart, any suggestion that someone may be the second coming will be met with resistance (and quite possibly antagonism). With that, I'm not saying RDJ is a replica of Bogie, rather the 21st century version of him. Careless, yet cocksure swagger. Check. A bit of a bad-ass? Check. Enough charisma to put men and women alike under his onscreen spell? Check. Add in his incredibly snarky style and you've got the closest thing we'll ever see to a modern Bogart.
The modern Ingrid Bergman: Marion Cotillard
Like Bergman before her, Cotillard turned her creative credibility in France (for Bergman it was Europe in general) into a crossover career that landed her firmly on the Hollywood A-list. After winning the Oscar for her performance en La Vie en Rose, Cotillard has become a symbol of lasting, classic Hollywood beauty and she's landed roles opposite the biggest names in the business as a result. Johnny Depp, Daniel Day-Lewis and Leonardo DiCaprio have all had the pleasure of calling the exquisite actress "co-star."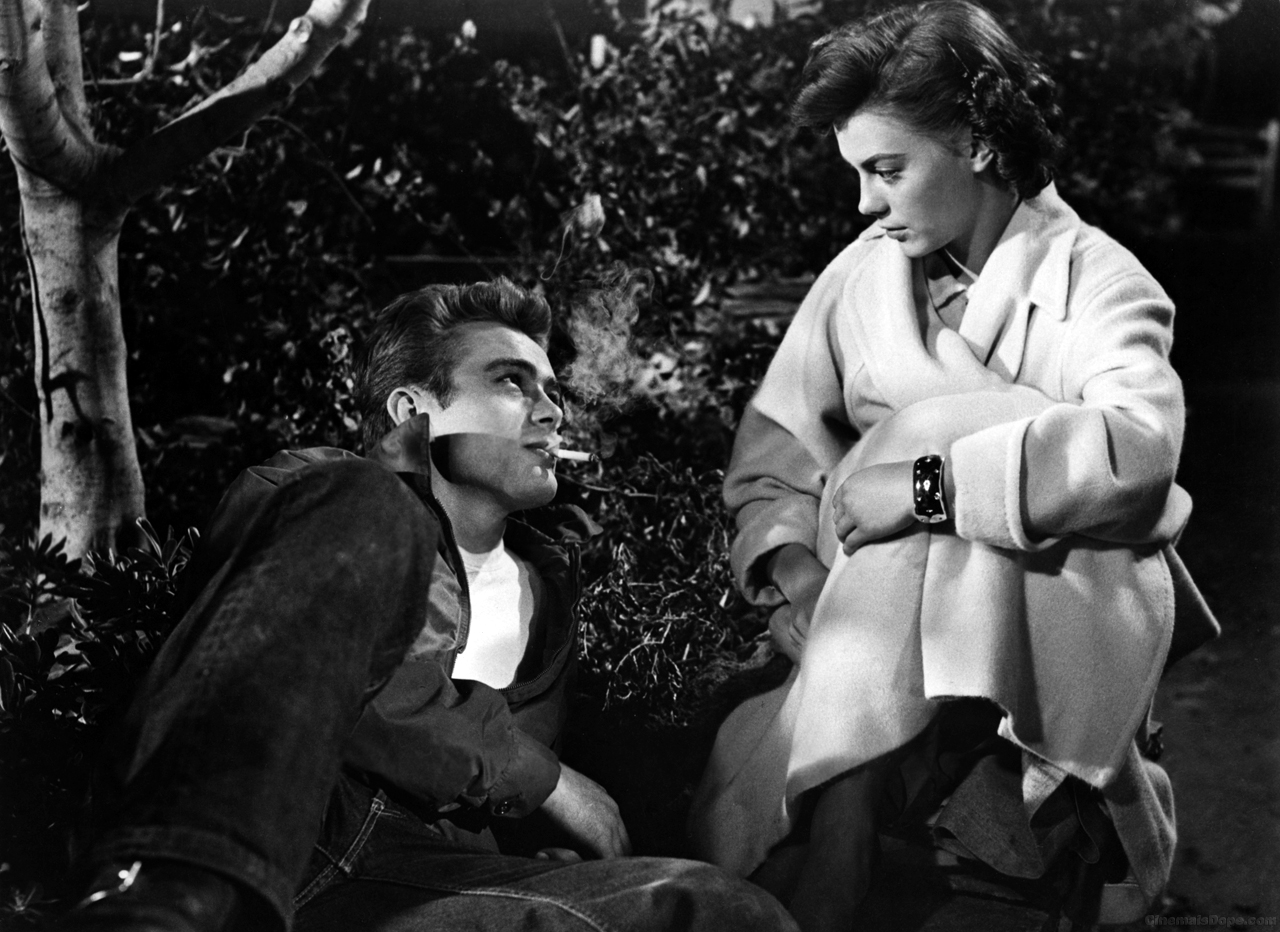 Rebel Without a Cause, 1955
Classic Couple: James Dean and Natalie Wood
The modern James Dean: James Franco
Before you get up in arms, yes, I am aware that Franco took on Dean in a made-for-TV biopic. While that initially steered me away from the comparison, I had to admit that the similarities are undeniable. Both young stars serve as mysterious, smoldering cultural icons. Dean's persona was embodied in this classic film and remains long after his unfortunate death. While Franco hasn't quite hit his Rebel Without a Cause moment, it seems that he's taken to the public sphere to give us a modern, performance art version of it as he continues to puzzle us all with his defiant antics.
The modern Natalie Wood: Emma Watson
This is a bit of a prediction because she hasn't done much outside of the Harry Potter films, but like Ms. Wood, Watson's staggering beauty is sure to keep her from fading. Both actresses began their careers as children – Watson in Harry Potter and The Sorcerer's Stone and Wood in Miracle on 34th Street – and grew into gorgeous young women before the public's eyes. Watson still has many years ahead of her, but I think it's safe to say she won't become just another child star that burns out.

Some Like It Hot , 1959
Classic Couple: Tony Curtis and Marilyn Monroe
The modern Tony Curtis: Leonardo DiCaprio
Curtis was considered one of the most handsome actors of his time, his looks landing him a slew of mild roles that allowed him to showcase little more than his face, but he soon proved that he was not only a good actor, but he had range for days. Sounds familiar doesn't it? DiCaprio started out in a similar vein (ahem, Titanic anyone?), but with fantastic performances in films like Blood Diamond and The Departed, I'm certain Leo's star it's on its way to joining that illustrious list of untarnished stars.
The modern Marilyn Monroe: Christina Hendricks
Could it be anyone else? Ms. Hendricks is practically a red-headed reincarnation of the former sex symbol; the measurements of her dangerous curves are almost identical to Monroe's and she's even got the whole high-pitched, breathy whisper down. While she's yet to rack up starring roles in a slew of films, her role on Mad Men has pushed her right to the top of the celebrity elite; and besides, Marilyn started out by reprising her one-note act. It's just a matter of time before Hendricks breaks out of her mold too.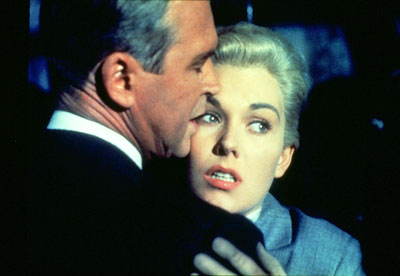 Vertigo, 1958
Classic Couple: Jimmy Stewart and Kim Novak
The modern Jimmy Stewart: Tom Hanks
Both actors are like the Hollywood fathers we all grew up with; both are infinitely successful and comfortably familiar. Stewart became a legend of American cinema, showcasing his consistent and versatile talents in many of our favorite films like It's a Wonderful Life, Rear Window, and Mr. Smith Goes to Washington. Like Stewart, Hanks is infinitely likable and has given us years of great cinema with films like Philadelphia and Forrest Gump, but he's shown versatility in movies like You've Got Mail and Toy Story. He's now cemented as a beloved Hollywood face that won't fail to be a part of the permanent Hollywood legacy.
The modern Kim Novak: Scarlett Johansson
Ms. Novak didn't necessarily gain fame for her great acting abilities, but she was mostly solid and her classic good looks made her a pleasure to watch. After starring alongside Jimmy Stewart in Vertigo, her status as a Hollywood legend was locked. Like Novak, Johansson is infinitely watchable and stunning. While her past performances never reached the level of many other actresses who've achieved similar levels of fame, her name is sure to be a solid fixture in the history of Hollywood for years to come.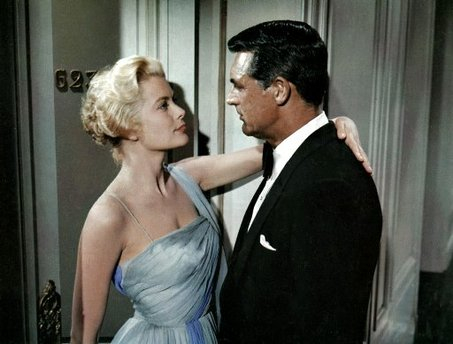 To Catch a Thief , 1959
Classic Couple: Cary Grant and Grace Kelly
The modern Cary Grant: George Clooney
George, George, George. From the time he started breaking hearts on ER, we knew he was going to go on making us swoon for years to come. Like Grant, Clooney shares the classic C.G. initials that worked so well for Gary Cooper and Clark Gable and oozes infinite charm. Grant was capable of physical comedy, sincere drama, intense action, all while maintaining his immaculate suaveness; I would point out which pieces correlate to Clooney, but it's safe to say they all do. Grant was named AFI's "Greatest Male Star of All Time" and while Clooney's not quite there yet, I think he could one day make a close second.
The modern Grace Kelly: Natalie Portman
While she isn't a princess, per se, Portman carries all the modern style, grace, and composure that "Princess Grace" was known for. Kelly became a staple of American cinema, gracing the screen with her talent and beauty in a slew of now-classic films including Rear Window, To Catch a Thief and Dial M for Murder. Portman is just now coming into that phase of her career fresh off the praise for her performance in Black Swan, but she's on her way to becoming the epitome of elegance in this modern age of Hollywood.