The Silliest Comedies and Darkest Dramas of 10 Diverse Directors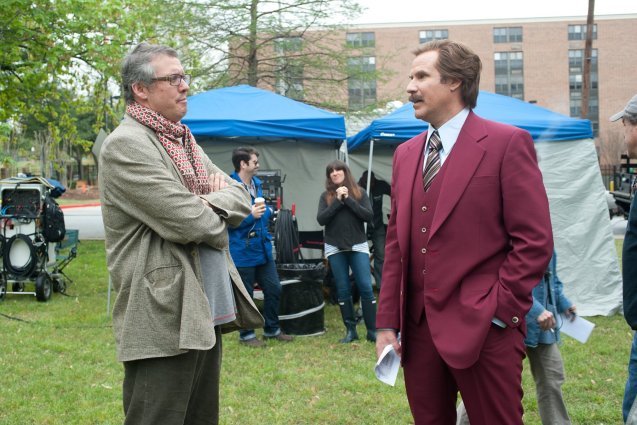 Paramount via Everett Collection
Two dunderheaded stepbrothers, a bigoted manchild news reporter, and the recent economic downturn. One of these things is not like the others. Adam McKay has built up a long legacy of idiotic comedy through his frequent collaborations with Will Ferrell, but his next upcoming project is going to be quite the departure from the director's usual fare. McKay is set to direct an adaptation of author Michael Lewis' The Big Short: Inside the Doomsday Machine, a book that sheds light on the housing and credit bubble. McKay is equipped with a directoral know-how more suited towards laughter, so a drama film is about the last thing we expected from the director. This is the guy that just made Anchorman 2 after all, and unless it's revealed that Ron Burgundy was the guy behind all of those fraudulent loans, we're not sure what this upcoming feature will look like when all is said and done. With all that said, McKay's sudden dramatic inspiration is not totally unheard of in Hollywood. Other directors have taken surprising left turns in their careers, and made films well outside of their perceived comfort zones:
In 1979, Francis Ford Coppola made Apocalypse Now, a tragic and surreal vision of the Vietnam war. Seventeen years later, he made the accelerated aging comedy Jack, which starred Robin Williams as a five-year-old in a 50-year-old's body. The horror, the horror.
In 1976, Martin Scorsese made Taxi Driver, a dark and gritty character study about an unhinged man trying to "clean up" the corruption of New York City. Thirty-five years later, he made Hugo, a whimsical family film about a boy living in a clock.
In 1991, John Singleton made Boyz n the Hood, a tragic look at the corrosive influence of gang life on inner-city youth. Twelve years later, he made 2 Fast 2 Furious, the most broey movie of all time.
In 2000, Ron Howard made a live-action adaptation of Dr. Seuss' How The Grinch Stole Christmas, starring the mostly rubber funnyman Jim Carrey. Eight years later, he made Frost/Nixon, a historical drama about a post-Watergate scandal interview with Richard Nixon, honing in on how the president's duplicity tore America apart.
In 1987, Rob Reiner made the loopy, enchanting fairy tale classic (and "kissing story") The Princess Bride. Five years later, he made A Few Good Men, a stirring courtroom drama about the violent murder of a soldier.
In 1979, Steven Spielberg made 1941, a zany comedy satirizing war with the antics of John Belushi and Dan Aykroyd. Fourteen years later he made Schindler's List, a heart wrenching story about one man's efforts to save Jews in Nazi Germany… scientifically proven to be the saddest movie ever created.
In 2004, David Gordon Green made Undertow, a harsh thriller about two young brothers trying to escape their murderous uncle. Seven years later, he made Your Highness, a medieval stoner comedy featuring Danny McBride.
In 1973, Robert Altman made A Long Goodbye, a neo-noir mystery film. Seven years later, he made Popeye, starring Robin Williams as the anchor armed sailor with a serious spinach dependency.
In 2001, Steven Soderbergh made Ocean's Eleven, a fun and campy remake of a fun and campy Rat Pack classic. Four years later, he made Bubble, a pitch black, intense look at the dead-end lives of several lifeless doll factory workers surrounding a murder.
In 1996, Kenneth Branagh made Hamlet, an adaptation of one of Shakespeare's most revered, and most tragic, play. Fifteen years later, he made Thor, a film about a magical hammer affectionately called "mew mew."