The Strangest Movies Turned Into Successful Musicals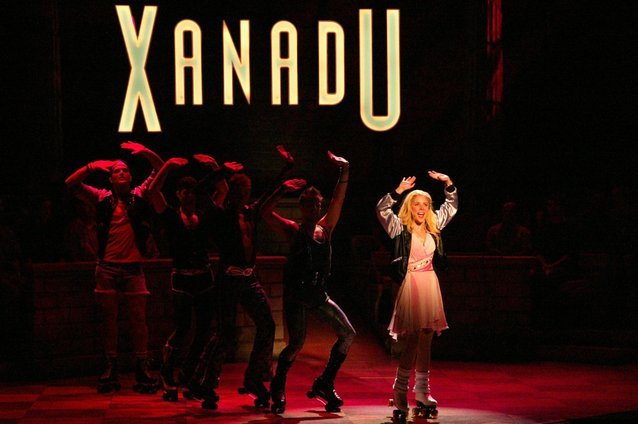 Joseph Marzullo/WENN
There is a new trend of films, both maintream hits and cult favorites, being turned into successful Tony Award winning musicals. Some might say there are no new ideas and creativity is dead. Others may delight in seeing the movies they love set to song and dance. It seems like nothing is exempt from the treatment, from Disney cartoons like The Lion King and The Little Mermaid, to heartwarming dramas like Newsies and Billy Elliot, and off-the-wall comedies like Monty Python and the Holy Grail (which begat Spamalot). There's even an off-Broadway musical of the cult flick Heathers. It's getting some decent traction with its stylish production design and hilarious lyrics. Does this mean it could be the next toast of Broadway? 
Some of the strangest films have gone on to become majorly successful musical. Here are some of the strangest and most fun:
Xanadu
Despite a memorable soundtrack and the magic of Olivia Newton John (ONJ) and The Electric Light Orchestra (ELO), this film wasn't commercially successful and was panned by critics. Heck, it even inspired John J.B. Wilson to create The Razzie Awards. However, it did make a wildly fun Broadway musical. The adaptation poked fun at some of the more bizarre parts of the film like ONJ's love for roller-skates and leg warmers and some major plot holes. Greek muse Clio (Kerry Butler) goes undercover as a mortal named Kira with a thick Australian accent to inspire dim-witted artist Sonny Malone (Cheyenne Jackson).
Kinky Boots
The quirky British comedy drama finds a son inheriting his father's shoe factory. When he befriends a drag queen Lola, played by Chiwetel Ejiofor (yes, that Chiwetel Ejiofor) he gets an idea to save his factory. The film also features Shaun of the Dead star Nick Frost. The award-winning musical version has songs penned by Cyndi Lauper (who won her first Tony for the show — she's just an Oscar away from EGOTing now!) and story by Harvey Fierstein. 
Legally Blonde
Reese Witherspoon throws the whole notion of "dumb blondes" out the window when sorority girl Elle Woods goes to Harvard Law School. This highly addictive musical features Laura Bell Bundy as Elle, along with major dance numbers, insanely catchy sing-a-long moments, and fresh additions to the original story. Smash star Christian Borle appears as Elle's dorky love interest Emmett. The series did not win a Tony but it did find a lot success and even aired in its entirety on MTV.
Hairspray
John Waters' edgy comedy about the 1960s race relations and dance series already had musical numbers, so all it needed was that extra touch. The 1988 film starred Ricki Lake, Divine, and Debbie Harry. It spawned a musical that won eight Tony Awards. It starred Harvey Fierstein and Glee star Matthew Morrison. Xanadu star Butler and Legally Blonde's Bundy also had roles in this obscenely popular musical. Not only did the musical clean up some of Waters more edgy themes but it somehow managed to inspire a movie musical based on a musical based on a movie. It can best be described as: