The 10 Gayest Straight Movies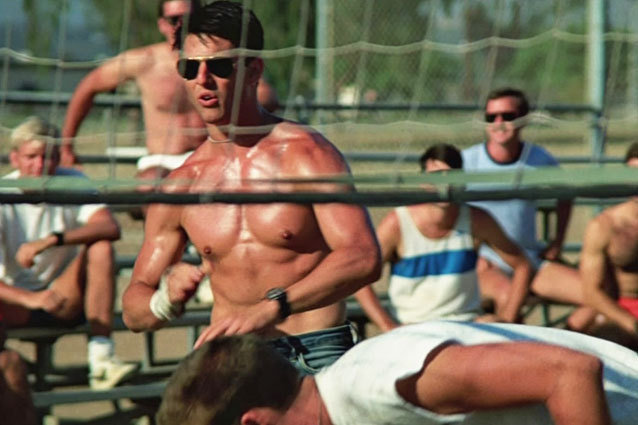 Paramount
Some movies focus so much on machismo that they inadvertently end up dripping with homoerotic tension. There are tons of movies that are just one make-out scene away from being a bromantic love story. It's ironic when mainstream movies aimed at gay audiences have leads with no romantic connection, when some movies about straight characters have sexual tension simply oozing off the screen. These "gay straight movies" provide an outlet for gay men looking for characters that resonate with them, a subtext of romantic relationships, and pure, unadulterated man candy. 
Writer/director Michael Serrato created this viral video hit, "Rambo, But Gay" which is a musical retelling of the popular Sylvester Stallone classic Rambo. It's an interesting take on the thin line between the overtly masculine and homoerotic. After all, Rambo spends most of the 1980s films half-naked and oiled up, so they are ripe for parody. 
Here are my nominations for the 10 gayest straight movies of all time. 
10. Fight Club 
Edward Norton deals with his ennui by staring at a super cut-up Brad Pitt and forming a club where men fight shirtless in underground rooms. Helena Bonham Carter gives a great performance of a woman as a drag queen. Last but not least, a bleach-blond cherubic Jared Leto follows around Pitt and Norton. 
9. The Covenant 
Why not remake The Craft with boys in Speedos? A pre-Friday Night Lights Taylor Kitsch stars in a movie about the descendants of The Salem Witch Trials that happen to all be men. There's a ton of time spent in the locker room and arguing about power.
8. 300
Abs, briefs and awesome gold facial piercings pervade this cinematic comic book. From the looks of it, the war between Sparta and the Persian Empire would have ended if both kings just made out. 
7. School Ties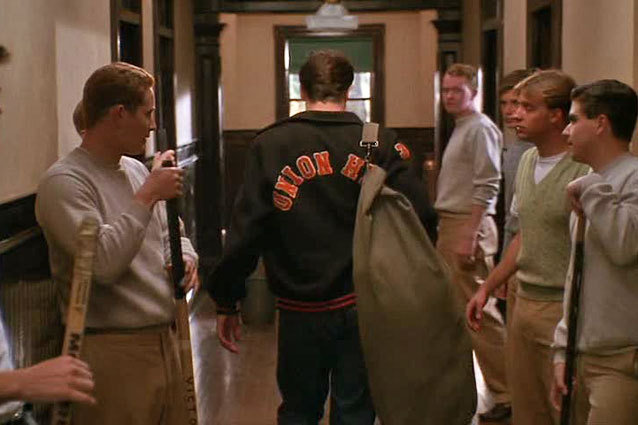 Paramount
Brendan Fraser gets into an exclusive prep school but he has a secret that he can't let anyone know. It's because he's Jewish, but it does mirror what coming out would be like. It's chock full of 1990s heartthrobs including Chris O'Donnell, Matt Damon, Ben Affleck and Cole Hauser. And thank you, filmmakers, for the gratuitous nude fight scene between Fraser and Damon. 
6. Dude, Where's My Car?
Ashton Kutcher and Seann William Scott have tons of bromantic chemistry. They spend the entire movie being chased by Nordic men in leather. The film also includes gratuitous Speedo and shirtless shots, Queer as Folk star Hal Sparks and an intense make-out scene. 
5. Magic Mike
Channing Tatum attempts to make this a heartfelt biopic. Instead, it feels more like a campy romp. Matthew McConaughey spends most of the time shirtless and in short shorts, Cody Horn is the female lead with a boyish body and everyone wears a man-thong. Let's also not ignore the gratuitous use of The Weather Girls' "It's Raining Men."
A waxed and oiled up John Travolta channels Pat Benatar in this sequel to Saturday Night Fever. He looks like a member of The Village People in his costume and ends the movie with one of the more boyish of his love interests, Jamie Lee Curtis. (Note: we have never believed that rumor about the lovely Ms. Curtis.)
Based on S.E. Hinton's book about rival gangs, this movie features all the heartthrobs of its time. Tom Cruise, Rob Lowe, Patrick Swayze, and Matt Dillon all star in the film. C. Thomas Howell and Ralph Macchio play best friends with a little too many sensitive and longing looks. 
3. The Lord of the Rings Trilogy 
The palpable chemistry between Frodo (Elijah Wood) and Sam (Sean Astin), plus elves with hair extensions. What more is there to say? 
2. Cocktail
Cruise as a money-hungry gigolo making cocktails. 'Nuff said. 
1. Top Gun
This movie invented the genre. Tons of close talking about "riding your tail," a very butch Kelly McGillis, and three simple words – shirtless volleyball game. 
Are there any you think should have made the list?