The Unusual Movie Stardom of Jamie Foxx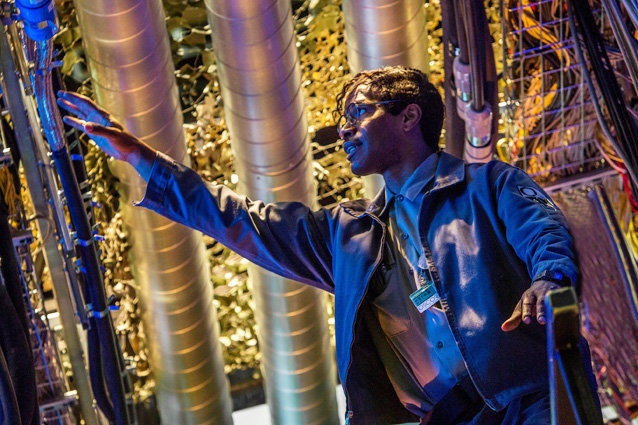 Columbia Pictures via Everett Collection
Jamie Foxx is a lot of things; Academy Award winning actor, a talented singer and musician, and an extremely funny comedian. What he's not, however, is your typical movie star.
Since moving to the big screen from a successful television career, first on In Living Color and then The Jamie Foxx Show, the actor has proved that he has little interest in being pigeonholed by the parts that he takes. Since winning his Oscar for Ray, Foxx has done roles in just about every genre of film, whether it's action (White House Down, Miami Vice), romantic comedy (Valentine's Day), straight comedy (Due Date, Horrible Bosses), musical (Dreamgirls), animated (Rio 2), or prestige pictures (The Soloist, Django Unchained).
Checking off another box on his resume, he's now playing a villain in a superhero movie (Electro in The Amazing Spider-Man 2). He bounces between supporting and leading roles more regularly than any other major actor in Hollywood… to the point where it's difficult to figure out which way he's more comfortable. His willingness to bounce between genres and types of roles not only makes it hard to pinpoint what Foxx will do next, it also keeps it from feeling like he's overexposed.
Beyond just his choice in roles, Foxx doesn't stand on superstar conventions. During this year's Academy Awards, Foxx and his daughter, Corinne Bishop, were suddenly on stage dancing during Pharrell Williams' performance of "Happy." Why? No real reason other than because he wanted to.
Not only does Foxx continue to make music when he feels like it — he's a five-time Grammy nominee — he continues to do pretty much whatever he wants. Tap into social media and you'll find Foxx putting up goofy videos on his Vine, tweeting out pictures of his four-year-old daughter or his Spider-Man costars and clips of him singing sexy versions of unsexy words on The Tonight Show with Jimmy Fallon.
Most major stars are protective of their public image, but Foxx largely doesn't seem to care about his. He's earned the ire of conservative pundits for moves like calling President Barack Obama "our lord and savior" and for his spot-on impressions of Fox News' Bill O'Reilly. He's been outspoken on issues of race related to Quentin Tarantino's script for Django Unchained as well as the casting of Quvenzhane Wallis in the title role of his next project, a remake of the musical Annie. And, he drew the ire of Jay Z with some awkward comments about Beyoncé as he was presenting an award at this year's Grammys. No matter the situation, though, Foxx is unapologetic.
It's not easy to know whether to admire Foxx for his zig-zagging through the Hollywood landscape or to be frustrated that he doesn't put his amazing talent front and center as often as he could. Either way, Foxx has proven repeatedly that what others think of his career or his choices means little to him. As perhaps the most unpredictable movie star working today, there's one other thing that Foxx is not… boring.