The Weird and Wonderful Filmography of Rose McGowan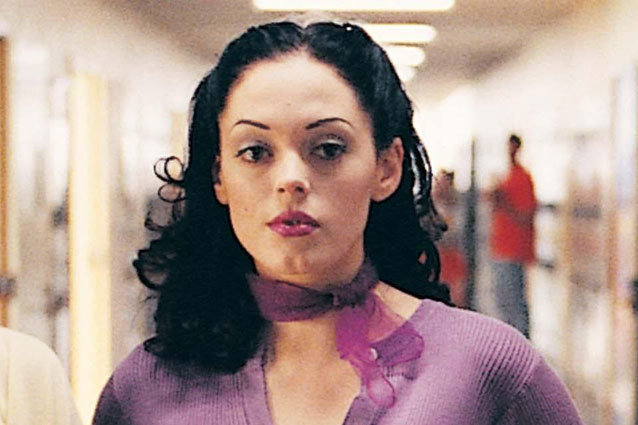 TriStar
Nineties fashion icon, home wrecker, Robert Rodriguez's muse and overall badass, Rose McGowan was ultimate bad girl of every cult film, horror movie and strangely enough, WB sitcom. Before Dita Von Tease slapped on her first pastie, McGowan was strutting along the MTV VMA Awards' red carpet wearing nothing but a chain link fence. She was the antithesis of  Drew Barrymore's flower power vibes and we loved her for it. When the news of a Charmed reboot went around (in which McGowan starred as one of the witchy sisters) McGowan's response was " lame lame lame lamertons," further proving once more her refreshing attitude towards Hollywood. Despite her recent "facial transformations," this Charmed-inspired nostalgia had us thinking about McGowan's unusual body of work and what's she up to these days — besides getting married and showing up in a cape.
The Doom Generation (1995)
As part of the teen apocalypse trilogy from queer film auteur Gregg Araki, we first see the dark appeal of McGowan. Here she is playing a teenage speed freak on a road trip filled with violence, threesomes and one killer bob. It's a look that came to define her, giving Uma Thurman a run for her money.
Scream (1996)
McGowan traded in her pin-up dark locks to play a ditsy blonde named Tatum. While she doesn't get much screen time in the film, neither do most of the victims, and at least her death scene was memorable, making us terrified of garage doors for at least another ten years.
Devil In The Flesh (1998)
The nineties seemed to have a glut of movies and straight to tape releases about evil, young women whose seduction attempts ruin the lives of others and Devil in the Flesh is no exception. Not even her Christian fundamentalist grandma can stop McGowan's lusty attempts to get her high school English teacher into bed. This movie got a lot of airplay on late-night cable networks and sleepovers filled with impressionable young girls.
Jawbreaker (1999)
This dark comedy featured the role Rose was born to play and also starred the perpetual chick flick sidekick, Judy Greer. In the days of pre-bullying campaigns, the most popular clique in high school accidently offs the prom queen with a jawbreaker candy. Filled with satire, sweater sets and a sweet soundtrack, it was some of Rose's best work.
Charmed (2001-06)
To be honest, we were initially skeptical when they killed off Prue (spoiler alert!) played by Shannen Doherty and brought McGowan in to play the long-lost sister, Paige, in season 3. But while her fellow witchy sisters were being overly dramatic about boys, Paige got to do her own thing and bring the fun back into the show. As the longest running hour-long television series featuring all female leads, Charmed is practicaly a feminist milestone in television. (Sidenote: Daryl from Walking Dead was on Charmed?)
Planet Terror (2007)
Serial teen dramas always seemed an odd fit for McGowan. It was B-movie territory with plenty of camp like the double feature, Grindhouse, where she truly thrived. An homage to the exploitation films of the '70s made by Roger Corman, McGowan appeared in both Death Proof and Planet Terror, but it was in Robert Rodriguez's zombie romp where she left the strongest impression — playing a stripper named Cherry who hunts down zombies with a machine gun for a leg. This lady knows how to pick her parts.