Watch a Bloody Beat Box Remix of 'The World's End,' 'Shaun of the Dead,' and 'Hot Fuzz'
With the final installment of the Three Flavours Cornetto trilogy gearing up for release, we are asked to look back upon the times we have spent with actors Simon Pegg and Nick Frost and director Edgar Wright. Times spent slaying zombies. Times spent upholding justice. And times yet to spend avoiding the wrath of otherworldly body snatchers. Following up Shaun of the Dead and Hot Fuzz with the science-fiction comedy The World's End, Pegg and Frost welcome the likes of Paddy Considine, Eddie Marsan, and the masterful Martin Freeman into the action. The latter four plays a group of childhood friends going through the motions of an alcohol-infused reunion at the behest of Pegg, who is suspended in a state of belligerent teenhood. In celebration of the new film, director and music producer Mike Relm has created the above mash-up of all three Pegg/Frost features, honing in on the spectacular sense of comic rhythm exhibited by the unstoppable duo.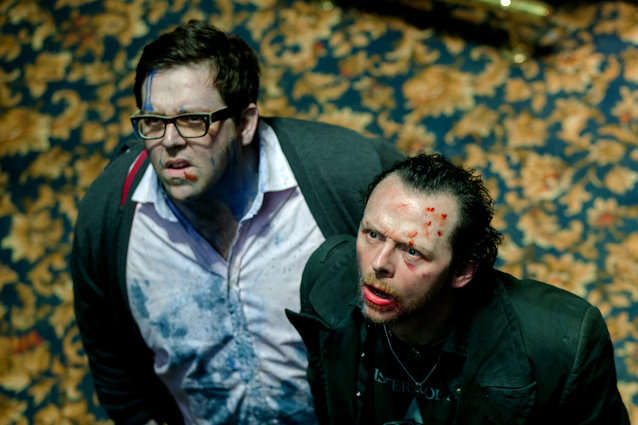 If you're a fan of any of the Cornetto movies, you'd be wise to check out the above video. Though violent and not shy about its colorful language, it reminds us of all of the humorous joys of Shaun of the Dead and Hot Fuzz, and gears us up for more with The World's End. Check out the final chapter on Aug. 23.
Follow Michael Arbeiter on Twitter @MichaelArbeiter
More:
Elizabeth Olsen in 'Avengers: Age of Ultron'?
Analyzing J.J. Abrams' Mysterious 'Stranger' Teaser
Jared Harris Talks 'Mortal Instruments'
---
From Our Partners


Battle of the Bikini Bodies (Celebuzz)


Complete Guide to Strippers in Movies and TV (Vh1)