Simon Pegg and Edgar Wright's 'The World's End' Is Bottoms-Up Funny, But Also Something More
It's taken six years, two Star Trek movies, and one Mission: Impossible caper, but Simon Pegg is finally back where he belongs: as Edgar Wright's live-wire muse and Nick Frost's beer-soaked sidekick. The World's End is the elegiac follow-up to Shaun of the Dead and Hot Fuzz, the capper to the comedic triumvirate's Three Flavours Cornetto Trilogy. If it lacks the playful exuberance of the earlier films, it's because Pegg, Frost, and Wright are all a little older and wiser now, as inclined to looking back as they are to looking forward. The World's End is still a damn funny romp, but tinted now with maturity — and a profound statement about the peril of nostalgia.
Burnt-out alcoholic Gary King (Pegg), who's still rocking the same part-punk/part-goth look he wore 20 years ago in high school, drags  his old school chums Peter (Eddie Marsan), Oliver (Martin Freeman), Steven (Paddy Considine), and Andrew (Frost) back to their hometown Newton Haven to complete a pub crawl that they attempted — but never finished — when they were 17. In the course of one night, each of them must down a pint at all 12 pubs along "The Golden Mile." Somehow, Gary thinks that if he completed what he started 20 years ago he'll be able to start life fresh. Because he needs to start over. Badly. He's an alcoholic mess, one of life's burnouts who peaked in his teens. It's all been downhill since.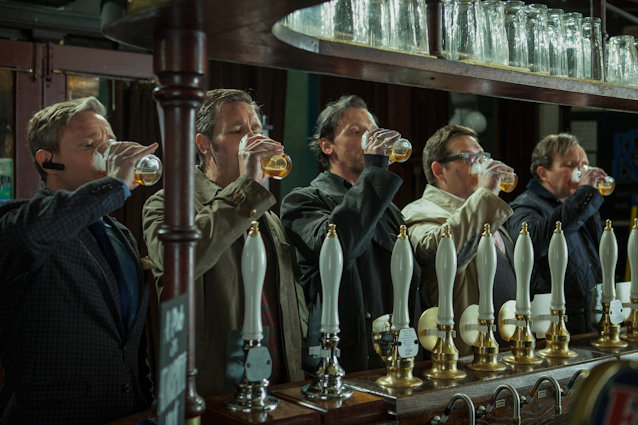 © Focus Features
It seems at first, though, that Gary and his partners in crime have changed so much that their former classmates and neighbors in Newton Haven barely recognize them. Were these 20 years that hard for all of them? Of course, they quickly discover that it's not they who have changed, it's the town. Newton Haven's residents have been systematically replaced by robot doubles, Invasion of the Body Snatchers-style.
Like in Shaun of the Dead, our heroes only realize this cataclysm gradually. That zombie spoof suggested that George A. Romero's vision of civilization destroyed by undead others is no longer valid because, well, Margaret Thatcher's vision of society had come true instead: there is no society, only insulated individuals too myopic to recognize the Apocalypse. In The World's End, it's more a matter of the characters being blinded by the past, by their own selective memory of their youth. With each pint that the quintet downs, you feel their drinking becomes less about recapturing their youth, or completing the fabled Golden Mile, as it is about numbing their pain. Heavy stuff. But Chaplin once said, "Comedy is tragedy as a long-shot," and Wright seems to believe it. The battles with the robots are hysterical and the welcome addition of Rosamund Pike as Oliver's sister adds an undercurrent of sexual tension.
And as he achieved in Shaun of the Dead and Hot Fuzz, there's some gentle sociological criticism of contemporary life: each pub, though given unique, highly individualistic names — the Crossed Hands, the Famous Cock, the Hole in the Wall, the Mermaid — is exactly the same. Has post-modernity given us a world so homogenous, so thoroughly bland, that it's as if we all really have been replaced by cookie-cutter robots? Maybe. The World's End is proof that laughter makes a healthy dose of social criticism go down much more easily.
4/5
More:
Simon Pegg and Nick Frost Translate 'Star Wars' For You
Is Simon Pegg's 'The World's End' Another Summer 2013 Alien Invasion Movie?
Watch a Bloody Beat Box Remix of 'The World's End,' 'Shaun of the Dead,' and 'Hot Fuzz'

What Do You Think? Tell Christian Blauvelt Directly On Twitter @Ctblauvelt And Read More Of His Reviews On Rotten Tomatoes!
---
From Our Partners:


40 Most Revealing See-Through Red Carpet Looks (Vh1)


15 Stars Share Secrets of their Sex Lives (Celebuzz)