10 Things You Didn't Know About American Pie
Since first hitting the silver screen in 1999, American Pie has been a cult classic in the world of teen movies. The hilarious hijinks, cringe-worthy moments, and coming-of-age life lessons have kept this movie alive and relevant ever since. However, even if you list it as one of your favorite flicks, there's a good chance you don't know these little known facts about this film!
1. Jason Biggs fake erection was made from a foil wrapped sausage stuck on a pencil.

Universal Pictures/Giphy
2. Seann William Scott (Stifler) was only paid $8,000 for his role in the original movie.

Universal Pictures/Tumblr
3. Speaking of Stifler, the semen he drank in the beer was really egg whites.

Universal Pictures/Tumblr
4. Even though her character was an accomplished flutist, Alyson Hannigan played clarinet when she was in high school.

Universal Pictures/Giphy
5. The famous apple pie was purchased at Costco.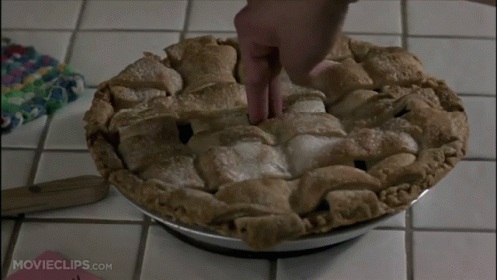 Universal Pictures/Riffsy
6. The original working title of the movie was: Unfinished Teenage Sex Comedy Which Can Be Made For Under $10 Million That Studio Readers Will Most Likely Hate But I Think You Will Love.

Universal Pictures/Giphy
7. Eugene Levy, who played Jim's dad, threatened to quit if the director didn't let him improvise almost all of his lines.

Universal Pictures/Giphy
8. Jason Biggs had a body double for sex scenes, but was the double was fired because he had a scar on his stomach, so Jason had to do them himself.

Universal Pictures/Giphy
9. Seann William Scott and Chris Klein were bad at Lacrosse. Even after three weeks of practice prior to shooting, real lacrosse players were hired to double for the actors.

Universal Pictures/Reddit
10. The wrong Blink-182 drummer was credited. Former member Scott Raynor appears in the credits, when it was supposed to be Travis Barker.

Universal Pictures/Giphy