35 Things You Never Knew About The Disney Princesses
Perhaps some of the most recognizable and iconic characters in the Wonderful World of Disney are the Disney Princesses. From vintage princess like Cinderella, to 21st century ladies like Elsa and Anna, the Disney Princess have been slaying the game for nearly a century. Here are 35 things you never knew about the Disney Princesses.
1. In Frozen Elsa's palace changes colors depending on her mood.
It's like one giant mood ring.
2. Anna is the only Disney Princess to have a duet with a villain.
This is what made Hans so creepy. At least Gaston had the decency not to try and include Belle in his diabolical plots.
3. However, Princess Jasmine is the only Princess to kiss a villain.
Poor Jasmine, she shouldn't have had to go through this.
4. Cinderella was Walt Disney's favorite.
It was something about the princess with the glass slipper that he just adored.
5. But literately, Disney was obsessed with Cinderella. His all-time favorite piece of animation was her dress transformation.
It is rather magical.
6. Speaking of Cinders, her shoe size was a teeny 4 1/2.
Seriously, no wonder no one else could fit those slippers!
7. Sleeping Beauty only speaks 18 lines in her entire film, the least of any Princess.
We guess it's because she's asleep the whole time, but that seems insane.
8. The Little Mermaid almost didn't include "Part Of This World".
Yes! You read that correctly Disney almost ruined our lives. Luckily, the producers decided even little kids could get into a slow song.
9. Speaking of Ariel, did you know that her cousin is Hercules?
Let's break it down shall we? Ariel is the daughter of Triton, who is the son of Poseidon, who is the brother of Zeus and the father of Hercules.
10. Jasmine is the only Disney Princess who wears pants.
This is why Aladdin is one of our favs. How fashion forward of her.
11. Belle's wardrobe matches The Beast's eyes.
If you watch Beauty and the Beast closely, you'll realized that Belle is the only one in her town that wears blue. The only other person to wear blue is The Beast. Obviously it was a match made in heaven.
12. Speaking of Belle, her falling hair tendril wasn't a fashion statement.
It was meant to show that she wasn't perfect.
13. Beyoncé almost snagged the role of Princess Tiana in The Princess and the Frog.

However, her Dreamgirls castmate Anika Noni Rose won the role in the end.
14. By the way, Tiana and Mulan are the only lefties in the bunch.
All of the other Princess are right-handed
15. Brave's Merida is the only Disney Princess without an American accent.
Even though the Disney Princesses are from different places around the globe….
16. Pocahontas and Anna are the only princesses to have more than one bae.
Pocahontas is courted by both Kocoum and John Smith, while Anna is pursued by both Hans and Kristoff. Never put your eggs in one basket ladies!
17. Cinderella actually loses her shoe THREE times in the film.
Once while delivering breakfast to her stepsisters, that time while leaving the ball, and again on her wedding day. Perhaps she actually wears a size 4 not a 4 1/2.
18. Princess Tiana is the only princess with a legit job.
"…the best revenge is your paper!" -Beyonce voice.
19. Elsa is the oldest Disney Princess.
She's 21, which means she's also the only princess who isn't a teenager.
20. Snow White is the youngest.
She's only 14 years old which makes her whole story rather icky.
21. There was almost no Meeko in Pocahontas.
John Candy was going to voice a talking turkey named Redfeather. That would have been amazeballs but we adore our Meeko.
22. Pocahontas is also the only Disney Princess who is based off of a real life person.
Even though her story is much sadder than Disney would like you to believe.
23. However, Mulan's story is based on a Chinese legend.
Legend has it that Hua Mulan fooled the troops until the end of the war, and didn't reveal that she was woman until after it was over. However, there is no actual proof that she existed IRL.
24, Also, Pocahontas and Mulan aren't technically Princesses.
Neither are from a royal line or marry into royalty, but they still slay nonetheless.
25. Pocahontas is also the only princess who has a tattoo.
How fly is she?!
26. Tiana is the only princess with dimples.
Adorable.
27. By the way, Elsa was almost the villain of Frozen.
Originally, she and Anna weren't even related. However, after hearing "Let It Go" the writers changed the entire plot of the film.
28. Merida gives Rapunzel a run for her money in the hair department.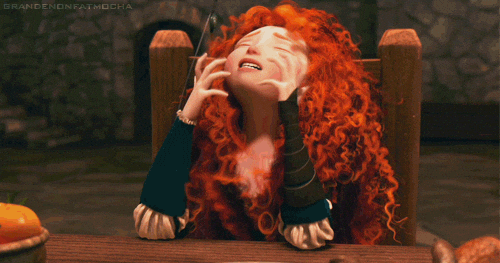 If Merida straightened her curls, they would be 4 feet long.
29. On the other hand, in Tangled, Rapunzel's hair is 70 feet long.
It also has over 100,000 strands #DISTEWMUCH
30. There was no new Disney Princess from 1959 to 1989.
After Aurora in Sleeping Beauty, there was no new Disney Princess until Ariel swam up to the scene 30-years later.
31. Speaking of Ariel, a young Alyssa Milano inspired the character's features.
This is only slightly creepy….
32. Mandy Moore was not the first choice to play Rapunzel in Tangled.
Kristin Chenoweth and Reese Witherspoon both had the role before dropping out.
33. Meredia is the only princess with brothers.
Seriously? No wonder she's brave AF.
34. Going back to Walt Disney's fav, Cinderella was actually shot in live-action first.
Then animators used that footage as a guide for the film we now know and love.
35. There is an official Disney Princess line-up.
Currently it includes, Cinderella, Belle, Ariel, Rapunzel, Tiana, Snow White, Mulan, Aurora, Pocahontas, Jasmine, and Merida. Anna and Elsa will be added this year, followed by the newest Disney Princess, Moana.
Were you surprised by any of these Disney Princess facts?! Let us know in the comments below.