Does Tim Burton Need Johnny Depp to Make a Good Movie?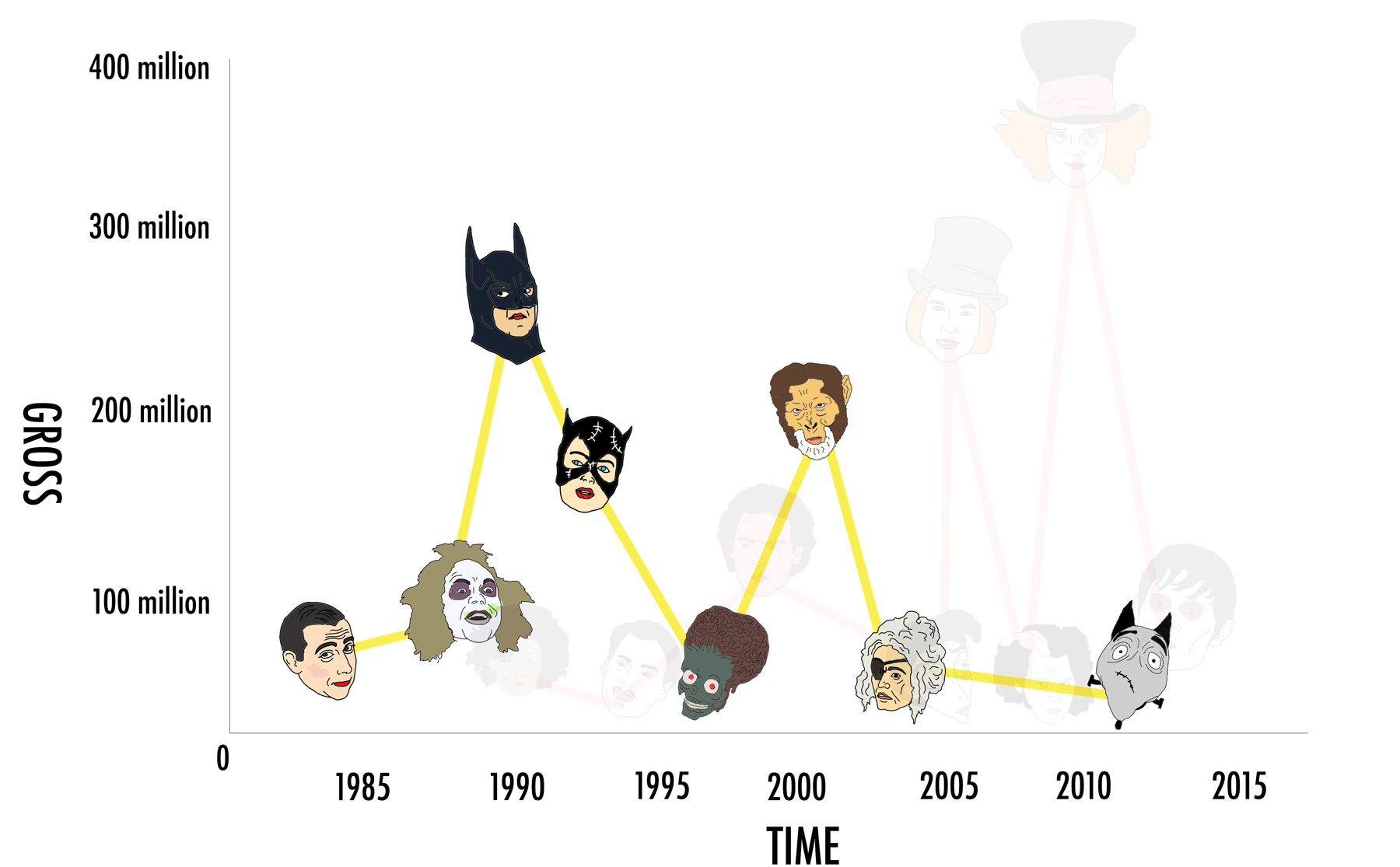 A colleague at Hollywood.com asked me whether one of the constituents of a good Tim Burton movie was Johnny Depp. After doing some research, we had noticed out of 16 movies, eight with Johnny Depp and eight without, both groups total nearly the exact same gross and averaged the same on the "Tomato Meter" on Rotten Tomatoes. Though this may seem like a deadlock, there are actually some more subtle elements to consider that reveal a kindred spirit action between the both of them, which often transcends their work for the bottom dollar.
First, we should rule out the Batman movies, which prove high on the box office level for Burton — if a little lukewarm critically — without the presence of Depp. The fact that the titular comic book character transcends the director as far as notoriety, makes considering Depp's inclusion a moot point. After all, back in the early '90s, Depp had only begun his film career.
Sandwiched in between these two films, however, is Burton's first film with Depp: Edward Scissorhands (1990). According to Box Office Mojo, while the Batman films made hundreds of millions of dollars during their theatrical runs, Edward Scissorhands maxed out at just over $56 million. The oddball film about an orphaned creation of a mad scientist with scissors for hands stands above Burton's inventive take on Batman as the best received, critically, among this trio of films. No matter the weird and creative spin Burton gave the DC hero, it pales against the Gothic fairy-tale of Edward Scissorhands.
If type-casting was a factor, one might credit Burton for leading Depp to a healthy career of rather quirky characters that have become the actor's bread and butter, from the Buster Keaton-obsessed loner Sam of Benny and Joon (1993) to Captain Jack Sparrow in the blockbuster Pirates of the Caribbean movies. It has been a diverse career for someone who started on TV as a teen idol on 21 Jump Street, yet one that seems to remain defined by his quirky turn as Edward Scissorhands.
There was another early success for the pair, and sentimentality might want to make this critic argue that it stands as their best work. It also happens to be their critical pinnacle, if least commercial success: 1994's Ed Wood. Their biopic about the cross-dressing director, shot in black and white, benefitted greatly by Depp's scenery-chewing portrayal. However, Sweeney Todd: The Demon Barber of Fleet Street (2007) remains one of the collaborators' purest works on many uncompromising levels, considering its black humor, R-rated horror and the fact that it was a musical, featuring Depp's first singing role in a cockney accent not too different from David Bowie's voice.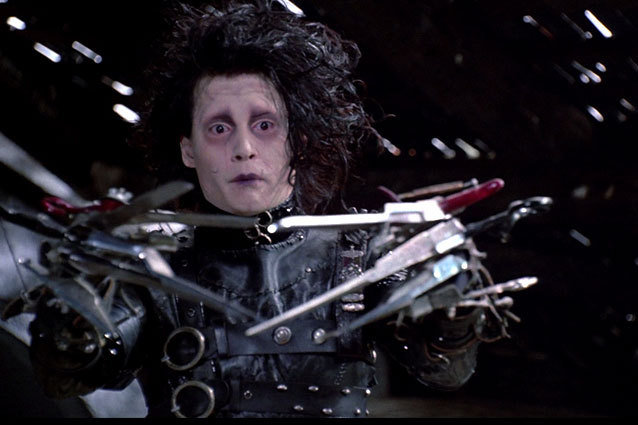 20th Century Fox
But even without Depp, Burton does not seem helpless to conjure up some the most bizarre and beloved characters of contemporary cinema. One of Burton's most enduring creations remains Jack Skellington and the denizens of Halloweentown. Though The Nightmare Before Christmas (1993) was directed by Henry Selick, Burton conceived the story and characters with the help of screenwriter Caroline Thompson. It bombed at the box office, but found new life with a cult following and later a re-release in 3-D (2006). Thompson also helped realize another of his zaniest, beguiling stop-motion experiences, which Burton this time directed: Tim Burton's Corpse Bride (2005). The latter film also included Depp in a lead performance as the bride's betrothed, playing the straight man to a cast of undead, madcap characters.
Later mutual successes, like Charlie and the Chocolate Factory (2005) and Alice in Wonderland (2010), have proven Burton and Depp's greatest hits financially. Alice failed with many critics, however, who seemed to have grown tired of Depp's over-the-top reliance on make-up and quirks as the Mad Hatter, and Burton's diversion from the source material to turn Alice's story into some sort of action-adventure video game. Commercially, one must also consider that 3-D had reached its height at this point and moviegoers had easily bought into the 3-D hype (Charlie and the Chocolate Factory was then one of the rare films released in the even higher-priced IMAX 3-D format), which has since lost its luster. Finally, like Batman, both films were based on previous works of acclaim and popularity that had their built-in audiences and once again transcend the Burton/Depp following.
There were times it seemed Burton needed Depp to achieve success. Mars Attacks! (1996) seemed to bust upon initial release but endures as a campy, send-up of '50s-era sci-fi flying saucer films. However, the director reteamed with Depp for the director's highly anticipated take on Sleepy Hollow (1999), which only did slightly better critically than Mars but made three times the revenue at the box office. Likewise, Frankenweenie (2012), a third stop-motion animated film associated with Burton but without Depp, and his latest work, fell below expectations, financially. Burton's take on the Dark Shadows soap opera of the '70s, earlier that year, did not receive a positive critical consensus, but its box office performance was nothing to sneeze at. It featured Depp in another freakish role, as the film's patriarchal vampire.
Considering these events, it would indeed seem that Burton needs Depp. But the fact remains that Burton provided an important channel for defining Depp's career that also enforced the beautiful grotesque of the Burton world. On the other hand, Burton does not necessarily need Depp to continue making his particular brand of cinema. It says something that he can succeed at Deppless ventures like reinventing Batman in his Gothic/freak show aesthetic, and creating an original character as iconic as Beetle Juice (who would spin off into his own Saturday morning cartoon series). That it may seem Burton has failed to reach such success without Depp recently only speaks to the ebb and flow of their track record together. After all, it's the Burton aesthetic that set the platform for Depp's career path. Though he may not be as successful at it commercially nowadays, Burton still has a strong sensibility true to his core being. The creatures in the underrated Mars Attacks! and Frankenweenie feature a bizarre yet enchanting melding of horror and humor that walk a precarious line most directors easily tumble off. No one can walk that line and make it on his own terms better than Tim Burton, but does he need Johnny Depp? It's nice to think so. And luckily, they both seem keen on continuing that relationship.
More:
'Beetle Juice' Almost Wasn't a Tim Burton Movie
Depp Reteams with 'Secret Window' Director for a Comedy
Johnny Depp in 'Into the Woods': A Bad Idea
 Follow @hansmorgenstern Follow @Hollywood_com
---
From Our Partners:


40 Most Revealing See-Through Red Carpet Looks (Vh1)


15 Stars Share Secrets of their Sex Lives (Celebuzz)