5 Times Movies and TV Ruined Our Favorite Christmas Song
As you crank up the radio (and the heat!) this holiday season, it's easy to remember why "it's the most wonderful time of the year." The month of December means obligatory Christmas tunes on repeat for many (no shame!). However, it can be tinted by the ruined joyous carols that were misused in movies and television.
1. "Do You Hear What I Hear" in Gremlins
Though this movie came out in 1984, most of us are stilled scarred from seeing this as kids. Watching a bunch of demonic little creatures (NOT the fluffy cute kind) terrorizing to the peaceful classic "Do You Hear What I Hear" is nothing short of sickeningly creepy. Tis NOT the season for this movie or this song. Ever.
2. "White Christmas" in Parenthood
For fans of the show Parenthood, season four's Christmas episode centered around Kristina finding out that she has cancer. As her husband, Adam, hears the news, we get a good long listen to lyrics that say, "I'm dreamin' of a white Christmas…" and it makes us want to weep.
3. "Last Christmas" in season two of Glee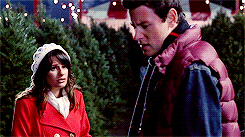 Our favorite duetting couple was on the rocks in season two and during the Christmas episode Finn and Rachel take to tree shopping together, which inevitably leads to passionate singing in each other's faces. While their rendition of the song was pretty good, we can't help but picture dramatic belting and sob-fest breakups any time this song comes on the radio.
4. "Jingle Bell Rock" in Mean Girls
Okay, this one is a no-brainer. How can you not picture The Plastics and Amy Poehler shimmying and shakin' their stuff to "Jingle Bell Rock"? There's just no recovering from this one.
5. "It's The Most Wonderful Time of the Year" in the Krampus trailer
With the release of the horror-comedy Krampus recently, let's talk about the trailer we've been seeing for weeks. It starts out looking like your typical Hallmark Christmas movie with a feel-good tune in the background. However, it clearly is NOT the most wonderful time of the year for that family and we're sure they'd agree.