'Admission' Star Tina Fey On Paul Rudd and What She and Amy Poehler Will Host Next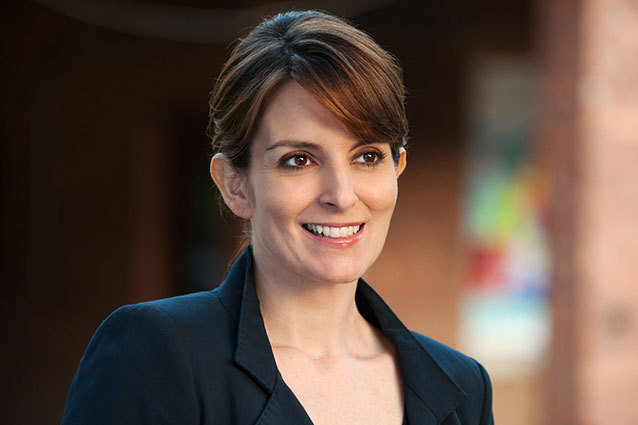 Sorry, Astronaut Mike Dexter, but it seems like Tina Fey might not be orbiting into outer space with you anytime soon. The actress/writer/Golden Globes co-host extraordinaire — who is back on the big screen again now that her Emmy-winning comedy cult darling 30 Rock is off the air — has some qualifications when it comes to picking her movie roles, including her latest as Princeton admissions officer named Portia Nathan in the new comedy Admission. 
"I look [at a script] and go, 'Am I believable as an admissions person? Yes," Fey said during an interview with Hollywood.com. "Am I believable as an astronaut? Perhaps not…we don't know." 
RELATED: 'Admission' Pairs Tina Fey and Paul Rudd, Pop Culture Explodes 
While Fey hasn't gotten on board for an all-female remake of  The Right Stuff… yet, she certainly knows a thing or two about the often arduous process of considering and, sometimes, rejecting submissions. "It was actually something I related to a lot, specifically because of SNL," Fey said of being able to relate to her character in Admission.
"As one of the head writers of the show, I used to have to always read hundreds of writers submissions of people who wanted writing jobs. I remember how stressful it was. When you got a really bad one, you were almost relieved because it was a clear no." Fey noted that it was toughest when there were more than a few viable candidates and was forced to ask herself, "What one person's life are we gonna change? It's a really daunting position to be in." 
Fey found herself in another familiar territory in Admission: being in an ultimately doomed with relationship with Michael Sheen, who played Wesley Snipes on 30 Rock, the man Liz Lemon didn't settle for, after all.  ("It's meant to not be," as Fey put it). Lucky for Fey — and her character Portia, who is unceremoniously dumped by Sheen's snobby character Mark for another woman —  Paul Rudd's charming character John Pressman, the headmaster of an alternative high school, comes into the picture. 
RELATED: Tina Fey is 'Struggling' Now That '30 Rock is Done 
Despite having similar friends and a similar Hollywood sensibility, Rudd and Fey had surprisingly never worked together until Admission. So what was the experience like for Fey? "He's the worst. He's awful. To be around. To look at. F**king not cool. Not funny," Fey joked, adding, "I cursed a little bit there, so you should bleep that."(Sorry Tina!) 
Alright, so we had to ask her: what are her and her BFF Amy Poehler — who knocked their Golden Globes hosting gig out of the park — going to emcee next? "We are available for auto shows and boat shows." We're so there.
RELATED: Tina Fey Responds to Taylor Swift: 'It Was Just a Joke'
Check out the full interview with Tina Fey below, in which she also talks about her own application process to the University of Virginia, her thoughts on a new generation enjoying 30 Rock ("I would love that if there's a generation of nerds growing up watching 30 Rock the way that I watched Monty Python or SNL or SCTV"), and her advice for young, aspiring comedy stars and writers. 
Admission opens in theaters nationwide on March 22. 
[Photo credit: Focus Features]