'To Be Takei' Shows Us the Professional, Personal, and Political Sides of George Takei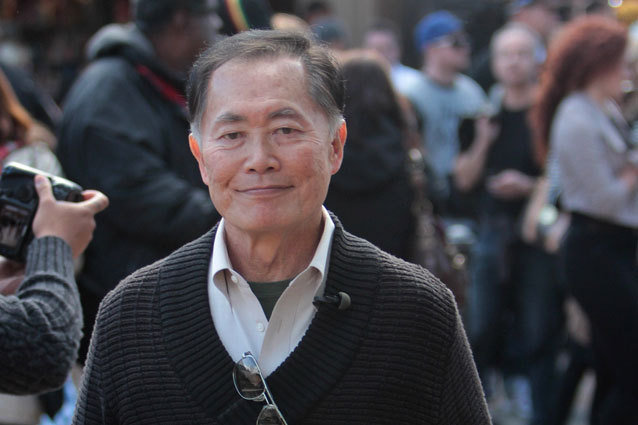 Josiah True/ WENN
It's more than likely that your first interactions with George Takei took place aboard the Starship Enterprise. The then little-known actor boarded Gene Roddenberry's groundbreaking Star Trek series at age 29, working to redefine both his own career and the way that Asians and Asian Americans would be depicted on television forever. It's also a rather fair bet that your most recent taste of Takei came in the form of social media: Now 74, the film and television veteran has gained a refreshed notability for his amicable presence on Twitter and Facebook, where he is known to share a wide variety of visual and verbal gags as well as his inspiring messages of tolerance and progressive thought. But there is a whole lot of Takei in between the early days of Sulu and the current era of hashtagged witticisms, and that is vast middle section is chronicled in the new documentary To Be Takei.
The third feature-length project from filmmaker Jennifer M. Kroot, whose previous endeavors include the 2003 sci-fi/fantasy Sirens of the 23rd Century and the 2009 biographical doc It Came from Kuchar, details the professional achievements, political activism, and personal life of Takei, who proves to be as accomplished as he is downright likable. The weight with which Kroot approaches the three principal aspects of Kroot's life tends to vary, leaning in favor of his work for gay rights, but we find ourselves duly engrossed in his personal and professional stories just the same.
The Professional
We learn quite a bit about Takei's own perspective on his early works (the pre-Sulu days), particularly those that he finds retroactively repugnant due to their embrace of racial stereotyping. Takei recounts the days when the only roles an Asian-American actor might procure were demeaning or even vilifying — clips from Green Berets, Which Way to the Front, and familiar small screen titles like Mission: Impossible and Perry Mason showcase some of Takei's earlier, more regrettable turns… ones that he was forced to endure in order to make a name for himself in the far more regressive '60s and '70s.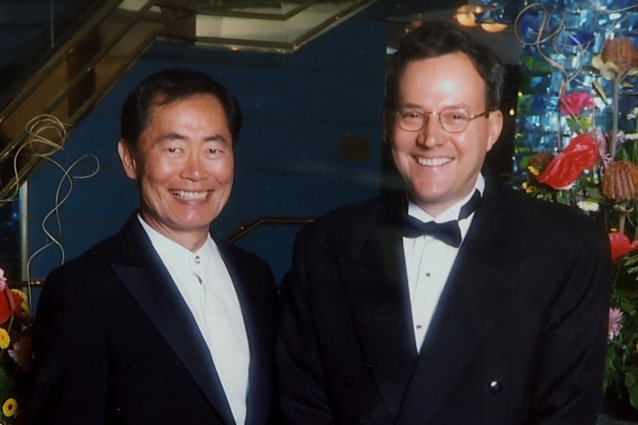 The Personal
Considering his family's personal history, it's no surprise that Takei has taken particular efforts to quell the negative depiction of Asians and Asian Americans in the United States. In Takei's childhood, he and his family were imprisoned in a Japanese internment camp, as was not unusual for immigrants and American citizens of Asian descent during World War II. To Be Takei offers a great deal of heartrending footage devoted to Takei describing his family's hardships during this period — the Hollywood legend illustrates his indomitable admiration for his parents, who exhibited charity and strength of will throughout the nightmare.
But the documentary also pays due attention to the lighter side of Takei's personal journey, showcasing his relationship with husband Brad Altman: the love of his life… and occasional victim of his ceaseless brutal honesty (at one point, Altman laments Takei's proclivity for telling people when they have gained a bit of weight, a habit that George himself doesn't seem to find problematic). Perhaps the most enjoyable bits in the film are those that allow the audience to watch Takei and Altman spend lazy days together, joking and bickering, showing off their complementary incurable merriment (George) and high-strung neuroses (Brad). It's charming, it's funny, and it's indicative of real, healthy love.
The Political
Finally, there wouldn't be much of a story if Takei had not become such a prominent figure in the fight for a more progressive attitude toward ethnic minorities and gay men and women. We see Takei's spotlighted wedding to Brad (conducted by friend and former colleague Nichelle Nichols), his acceptance of a variety of awards recognizing his work in the area of LGBT rights, and — perhaps his greatest sociopolitical contribution to date — his public lambasting of William Shatner.
No matter when and where you met Takei, be it back during his journeys across the galaxies or amid one of his recent highly celebrated punny tweets, your interests in the man as an actor, a public figure, and a man will be sated by the cheerful, informative doc To Be Takei. Check out the film in select theaters or on VOD now.