Tom Cruise, Morgan Freeman Battle Over Earthy Domain in 'Oblivion' — TRAILER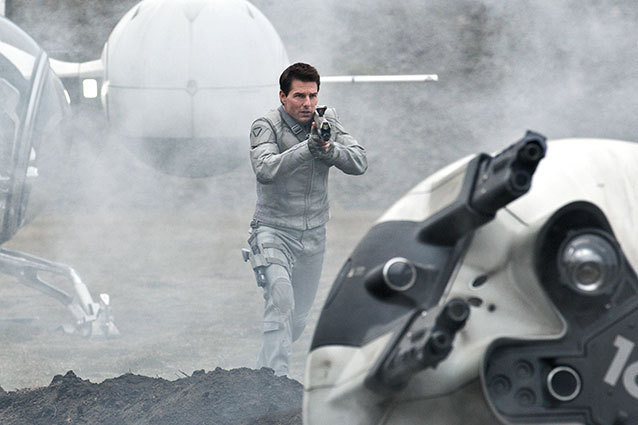 Is Morgan Freeman, America's moral compass, playing a bad guy in Oblivion, the new post-apocalyptic thriller starring Tom Cruise? Check out the latest trailer for the film, in theaters April 12, and decide for yourself.
Freeman, typically a beacon of all that is right and good in this world, plays the leader of a rebel faction encountered by Cruise's Jack Harper, a drone mechanic left behind on Earth as a security guard of sorts 60 years after the planet was destroyed in a war with an alien race. While the rest of civilization re-settles off-planet, Cruise patrols the now-inhospitable ground.
RELATED: 'Oblivion"s Glossy, Post-Apocalyptic Future — TRAILER
But wait — could the leaders of the sky civilization Cruise is defending actually be the bad guys and Freeman's subterranean rebels the good ones? This second trailer reveals much more about the plot of the movie than the first: There is definitely some sort of conspiracy afoot, especially surrounding Olga Kurylenko's mysterious character.
Oblivion, from Tron: Legacy director Joe Kosinski, hits theaters April 12. Check out the full trailer below:
Follow Jean on Twitter @hijean
[PHOTO CREDIT: Universal Pictures]
---

Kate Upton Bares All In Body Paint (Celebuzz)


33 Child Stars: Where Are They Now? (Celebuzz)