Tom Hanks Aims to Star in WWII Drama 'In the Garden of Beasts'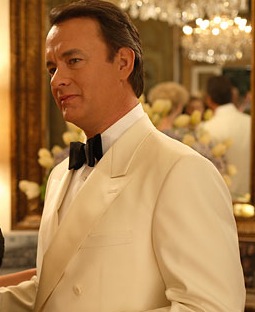 Tom Hanks: master thespian and realizer of historical dramas.
Hanks is known for his obsession with the past, but, thankfully, the fruits of that fascination have been winners for audiences. In the past decade, Hanks has shepherded From the Earth to the Moon, Band of Brothers, John Adams and The Pacific for HBO, as well as starring in Steven Spielberg's Saving Private Ryan and Mike Nichols' semi-modern politico-centric film Charlie Wilson's War. He's no stranger to 20th century America, and he'll continue turning his favorite historical dramas into cinema with Erik Larson's In the Garden of Beasts.
Larson's book describes the true experiences of William Dodd, the USA's ambassador to Berlin in 1933. In the beginning of his tenure working in Germany, Hitler and the Nazis were no big thing, Dodd's daughter Martha even fraternizing with Gestapo officers and swooning over the Führer. But then came a realization—they're in the middle of WWII. With the Nazis. The Nazis.
Hanks is producing the big screen adaptation and is eyeing the role of Dodd. There's no timeline for the movie, but with Hanks on board and eager for a juicy role, a turnaround seems quick and inevitable (although if it's anything like Larsons other in-the-works adaptation The Devil and the White City, which Leonardo Dicaprio's been sitting on for ages, we may never see it…).
Hanks is currently shooting The Wachowskis'/Tom Tykwer epic collaboration Cloud Atlas and is awaiting the release of his sure-to-be-Oscar-fodder Extremely Loud and Incredibly Close.
Source: The Hollywood Reporter
="font-style:>