Chinese Reality Show to Cast 'Transformers 4' Actors: Why It Could Never Work in the U.S.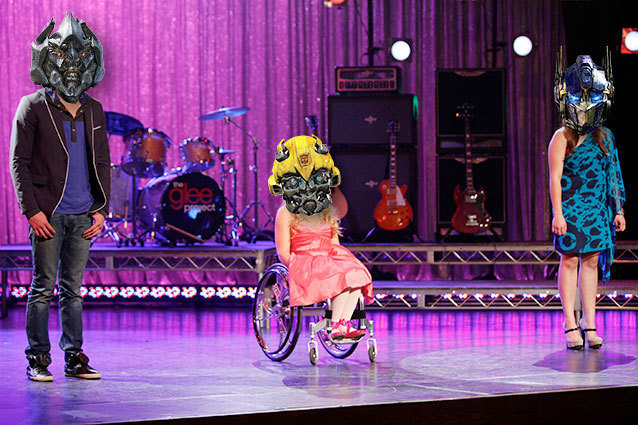 The producers of Transformers 4 appear to be taking a page out of the Glee Project playbook. The result, however, may be something that we actually could never see on American television today.
Paramount Pictures, and their Chinese partners who are co-producing Transformers 4, China Movie Channel and Jiaflix Entertainment, are launching a reality competition series in the People's Republic to cast four actors in the film. The show, set to launch in June, is called Transformers 4 Chinese Actor Talent Search, and it'll be looking to fill roles with two Chinese thesps who already have professional acting experience and two who've never worked professionally before. A rotating panel, made up of former AMPAS head Sid Ganis (currently the chairman of Jiaflix Entertainment), Transformers producer Lorenzo DiBonaventura, casting director Denise Chamian, Paramount distribution chief Megan Colligan, and two representatives of the Chinese film world — Jia Qi and Liang Longfei — will judge the competition.
Two things may strike you about this: First, it goes to show just how invested Hollywood is in tapping into the emerging, and highly lucrative, Chinese film market; second, it seems a lot like The Glee Project. Except that it isn't. The concept of The Glee Project was to find a singing, dancing, theater geek (or Gleek) to play a supporting character for a few episodes on an increasingly cultish show with a niche fanbase. The Glee Project itself would air on an even more niche network: Oxygen. Transformers 4 Chinese Actor Talent Search is looking for talent for one of the biggest worldwide entertainment properties imaginable. Even if the roles that are in competition are small, the visibility of whoever gets cast will be giant. Especially in China, where reality TV has become hugely popular and audiences are very hungry for competition shows.
In fact, it may be that the Transformers reality show could only happen in China these days. Compared to the U.S., Chinese reality TV culture, though extremely profitable, is still in its infancy. Competition shows and dating shows dominate the marketplace, not the kind of faux-documentary reality TV focused on pseudo-celebrities that now gluts E! and Bravo. China is basically where American reality TV was 11 or 12 years ago, when Survivor was still king, American Idol was getting ready to launch, and The Bachelor first re-introduced the idea of harem-style dating. China's probably still a few years off from something like a Real Housewives of Guangzhou.
In that period from 2000 to 2003, it might have still been possible to launch a high-profile casting competition series for a blockbuster film. That's because at that time, reality TV fame was not an end in itself, like it has since become. Colleen Haskell parlayed her fleeting notoriety on Survivor into the Rob Schneider vehicle, The Animal. Fellow alum Colby Donaldson did the same with a notable appearance on Curb Your Enthusiasm in which he fought with someone who'd lived through the Holocaust about who was the greater "Survivor." American Idol was designed to launch actual music careers. Anderson Cooper didn't want to be stuck hosting The Mole, so he used that gig to trade up to a legitimate journalism gig on CNN. And though the kind of micro-budget indies it featured are the furthest cry from Transformers 4, Project Greenlight was a docuseries that shed light on people who wanted to be filmmakers… not reality TV stars.
Reality TV stardom was not always the all-consuming end goal, like it has since become for pseudo-celebs like Kim Kardashian who have turned themselves into brands with a reality TV show as the most effective vehicle for communicating those brands to the public. Kim K. may take bit parts in movies or release s****y songs like "Jam" every now and then, but those are just side projects compared to the cash cow of Keeping With the Kardashians and its various spinoffs. She's making a helluva lot more money on those shows than she ever could with a supporting role in Transformers 4.
As American reality TV began to become an ouroboros end goal in itself, competition shows related to film and TV casting began to fizzle out. The WB's short-lived 2005 series, The Starlet, in which judges Faye Dunaway and Vivica A. Fox tried to cast several competing actresses for a role on One Tree Hill was the lowest rated show on any network that year. Fox's On the Lot, a tarted-up competition among aspiring filmmakers to win a development deal from executive producer Steven Spielberg and judges Carrie Fisher and Gary Marshall similarly fizzled. (Marshall's choice commentary didn't help matters: "A buddy film between a rat and mouse. Now that's what I want to see!") Scrappy upstart filmmakers would turn to YouTube, and the old mainstay of film festivals, to get their work noticed — not a reality show. 
The fact that Paramount and its partners is looking to cast several actors via a reality competition series in China doesn't really say as much about Hollywood's pandering to the Chinese film market as it does the fact that China may be one of the few places where a show like that could still have a chance.
Follow Christian Blauvelt on Twitter @Ctblauvelt
More:
'Transformers 4' To Shoot Partially in China: Why This is Becoming Common
---
From Our Partners:


Eva Longoria Bikinis on Spring Break (Celebuzz)


33 Child Stars: Where Are They Now? (Celebuzz)