The 10 Most Ridiculous Parts of 'Transformers: Age of Extinction'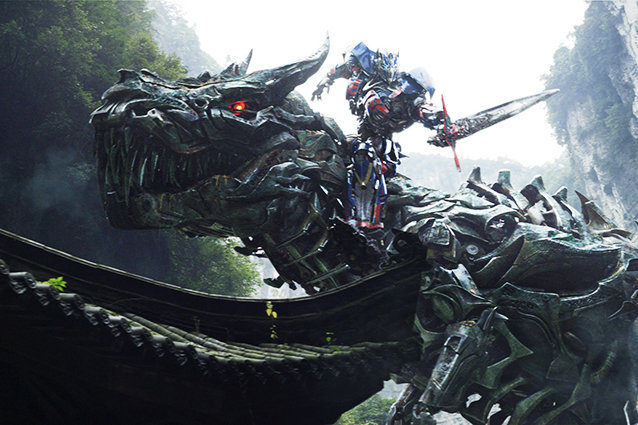 Paramount Pictures via Everett Collection
We can't say exactly how much we were "supposed to" be laughing at Transformers: Age of Extinction, but we managed a few chuckles just the same. Michael Bay's latest blockbuster has no shortage of ridiculous moments, lines, scenes, and overarching themes. Here are the 10 most absurd elements in the film:
10) "MY FACE IS MY WARRANT."
When asked to produce a warrant before trespassing on Yaeger property, Lost's Man in Black responds with the above proclamation… which is just a little less menacing than it is ridiculous.
9) THE KIDNAPPING OF TESSA YAEGER
Nicola Peltz's character serves no distinct purpose other than to be yelled about. Her overprotective dad (Mark Wahlberg) yells about her dating her thick-headed boyfriend (Jack Reynor), who yells right back. Then, the two of them get to yell about her being kidnapped by a robot spaceship. But here's the kicker: she isn't really meant to be kidnapped. She just happens to be inside a car that is a little too close to Optimus Prime when they kidnap him. Her attempts to bust open the car windshield (a suggestion that is, of course, yelled to her by her dad) are half-hearted and futile. But the kicker of the kicker: the futuristic, space-traveling robot monsters use a rope net to do the kidnapping.
8) OPTIMUS PRIME'S CLOSING MONOLOGUE
Littered with idioms like, "There are questions we were never meant to know the answers to, but who we are and where we came from is not one of them," and "When you look to the stars, pretend that one of them is the soul I've spent this movie trying to prove to everyone I probably have, even though I'm a robot," Optimus' final speech to close out the film is as cheesy and vacant as something out of a teen soap with a religious slant.
7) "I WENT THROUGH THE SAME THING WITH BUMBLEBEE."
Optimus Prime can empathize with Cade Yaeger's fatherhood headaches. Apparently he's been dealing with his own surrogate child's teenage rebellion and sexual exploration.
6) "ALGORITHMS! MATH!"
Stanley Tucci, playing a brilliant scientist, yells this at one point. You've got to imagine that Michael Bay was using these words as script placeholders until he could wrangle a technologically adroit consultant to fill in the gaps… but then just forgot about it in the wake of designing his nineteenth explosion.
5) THE ULTIMATE MESSAGE
"Some things shouldn't be invented." So… Transformers is anti-science, then?
4) DRINK BUD LIGHT, EVERYBODY!
Struggling to control a wayward spaceship, Wahlberg careens down into the middle of Chicago's rush hour, crashing onto a civilian vehicle and a Bud Light truck. The spill results in a flood of Bud Light bottles and cans, one of which Wahlberg cracks open on a vehicle door as a tacit threat to an angry resident of the Windy City.
3) MARK WAHLBERG'S NAME IS CADE YAEGER
That is a silly name.
2) DON'T MESS WITH TEXAS
When Mark Wahlberg meets his daughter's Irish boyfriend, he calls him "Lucky Charms" and jabs that he doesn't sound like he's from Texas. This coming from a guy who, just a few minutes earlier, exclaimed, "I think we fownd a Transfawmah!"
1) ISN'T IT ROMANTIC?
In Transformers: Age of Extinction, Peltz plays 17-year-old high school senior Tessa Yaeger. Reynor plays her boyfriend, the 20-year-old Shane Dyson. Tessa's father Cade presumes such a partnership to be in conflict with statutory law, but is put in his place when Shane produces a laminated newspaper article detailing the Romeo and Juliet Laws, passed in Texas in 2011 (in real life), that allow for the maintenance of any romantic union that began when both parties were minors, even if one breaches the 18-year mark before the other. Got that? The dude carries around a copy of an article that proves he is legally cool to have sex with an underage woman. This is a several-minute-long scene in a Transformers movie devoted to excusing, or presenting a world in which excuses are readily available for, what would otherwise be deemed statutory rape. Weird as all hell.
Check out our review of the movie here!