Tribeca 2013: 15 Movies That Belong on Your Radar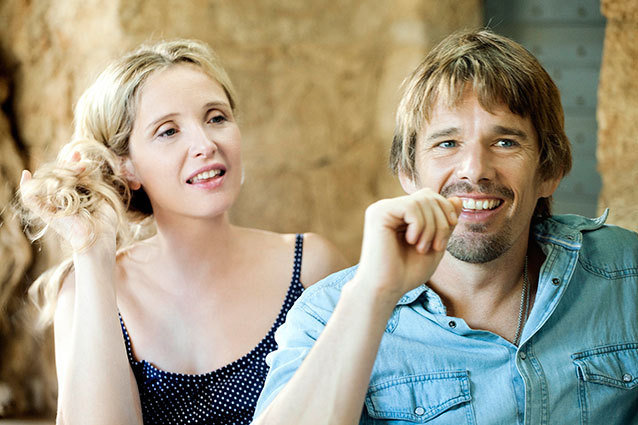 These past nine years have seen the Tribeca Film Festival transform from a patriotic passion project of Robert DeNiro into one of the most exciting annual purveyors of new film. Tribeca has upheld the flavor of independent cinema with countless small and engaging projects, but has hardly fallen victim to these limitations — just last year, the festival debuted The Avengers, as big a movie as one can imagine. The variety maintains with 2013's slate, kicking off this week. No matter what breed of cinephile you might be, the Tribeca slate has something to be excited over…
You wanna laugh?
Indie fests aren't all tearjerkers and documentaries. Tribeca '13 has a healthy platter of comedy in store. A few attractive entries: Adult World, in which aspiring writer Emma Roberts works at a sex shop while taking literary advice from an eccentric John Cusack; A Case of You, which stars Justin Long as a young man who lies on his Internet dating profile (is there any alternative, really?) to impress barista Evan Rachel Wood; and the wicked G.B.F., which highlights the competition of two vapid popular teens to win the camaraderie of their high school's first openly gay student.
Not into that? Fine. As a wise man once said, "Laughs are cheap. I'm going for gasps." We've got you covered:
If your preferred movie-watching position is at the edge of your seat, Tribeca's list of thrillers, horrors, and crime dramas will peak interest: holding up the fantastical, there's Byzantium, in which mother-daughter pair Gemma Arteron and Saoirse Ronan (doesn't it seem like they'd be more appropriately cast as sisters?) fend off a ganglion of undead monsters; an emotional punch invades the genre with A Single Shot, in which a Sam Rockwell vies desperately to reunite with his family after being wrongfull accused of murder, and in Whitewash, which sees Thomas Haden Church circling the drain in the wake of an accidental killing; finally, things get their darkest in Big Bad Wolves, when two vigilantes (one with a badge) take the apprehension of an alleged serial killer into their own hands.
Would you prefer tears?
There's nothing like a good cry and there's no deficit of sob stories at Tribeca: kick off with the troubled father-son story of At Any Price, in which corn farmer Dennis Quaid comes to blows with his son Zac Efron, the contentious economy of the corn industry, and his own compulsive pride; there's some hard-hitting material to be found in The Reluctant Fundamentalist, which illustrates a young Pakistani man's personal and professional experiences in America following the events of Sept. 11; and in the especially promising Bottled Up, we have Melissa Leo, tackling a new gritty story (hopefully without those dreadful Oscar pleas this time around) about the complicated journey attached to devoting one's heart to a drug addict.
How about Paul Rudd? You like Paul Rudd, right?
Especially when he's hanging out with some other guy? We've got two for you, then. Take your pick:Almost Christmas, in which smooth-talking Rudd teams up with conman and cuckold Paul Giamatti in the get-rich-quick game, or Prince Avalanche, in which highway worker Rudd teams up with his nubile brother-in-law Emile Hirsch in the doing-nothing-for-hours-on-end game. Both strong candidates.
Well you must like cat videos…
The documentary Lil Bub & Friendz proves that America's kitten GIF fixation has extended far and beyond an at-work distraction. It is now a full-on, film-inspiring religion.
You like your documentary subjects to be a little more… sophisticated?
Okay, hot shot. How's Gore freakin' Vidal? Burr Steers, Christopher Hitchens and more lend their takes on the superhuman American writer in the doc Gore Vidal: The United States of Amnesia.
Finally, the one we're all waiting for:
Ladies and gentlemen, Before Midnight, the third (and possibly final… but who knows anymore) chapter of Richard Linklater's story of romance involving a garrulous Ethan Hawke and a scathing Julie Delpy. When the trio introduced the small but unstoppable Before Sunrise in 1995, it invoked something fresh and humane. When the follow-up Before Sunset hit in 2004, fans were doused by the amazement of the sequel's ability to not only live up to, but to perhaps completely outdo its predecessor. And word on the street is, Before Midnight is more than worthy of its company among these heartrending gems. Tribeca might have a lot of gold lined up this year, but nothing more exciting than Before Midnight.
More:
2013 Tribeca Includes a Paul Rudd Buddy Comedy and a 'Star Wars' Remake
'Before Midnight' Completes a Trilogy at Sundance, Questions True Love
SXSW's 'Prince Avalanche' Is a Hilarious, Touching Odd Couple Story
---
From Our Partners:


Eva Longoria Bikinis on Spring Break (Celebuzz)


33 Child Stars: Where Are They Now? (Celebuzz)