'Turbo' Review: The Racing Snail Flick Is Cute, Predictable Family Fun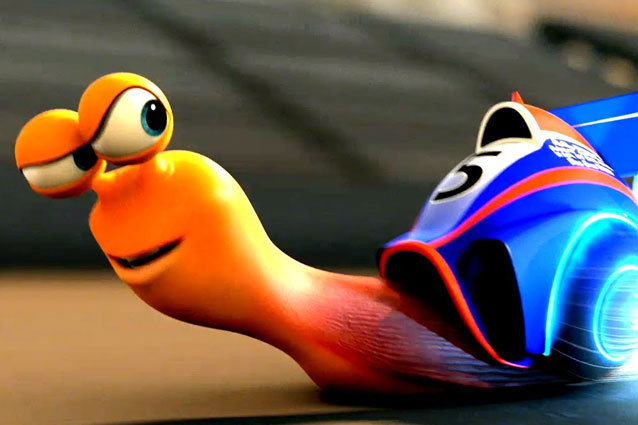 "That snail is fast!" This tagline sums up all you need to know about Turbo, the rather ironic tale of a garden snail who races in the Indy 500. The latest computer-animated flick from Dreamworks tells a typically predictable underdog story, with the proper doses of humor and heartwarming moments. It's totally cliché, but still great family fun.
Voiced by Ryan Reynolds, Turbo (née Theo) is a simple garden snail who is fed up with his humdrum life in the tomato patch with his overly cautious brother Chet (Paul Giamatti). When he isn't working with overripe fruit at "the plant," the ambitious little snail watches old car race tapes and dreams of being fast like French-Canadian Indy 500 champion Guy Gagne (voiced by Bill Hader). Then one fateful night, Turbo is exposed to nitrous oxide and effectively transformed into a car, equipped with a radio, alarm, headlights, and best of all, super speed. Turbo's newfound abilities quickly come into play when he rescues Chet from a crow attack, but the two brothers are then snatched up by a taco truck driver named Tito Lopez. Just when they think they're about to become escargot, Chet and Turbo are surprised to find that Tito only wants to enter them in a snail race.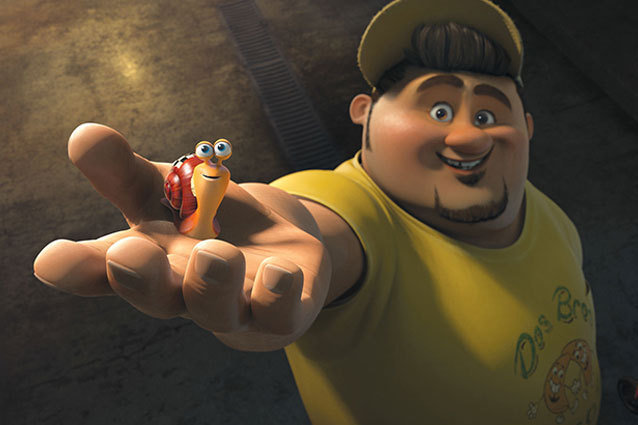 Tito and his brother Angelo operate the struggling Dos Bros taco stand in a ramshackle strip mall with a hobby shop, nail salon, and auto repair shop. The owners are friends, racing snails together to take their minds off their failing businesses. But when they discover Turbo's incredible talents, they decide to show him off to the world. With hopes to win the Indy 500 and put their strip mall on the map, the shop owners and their snails band together to travel to Indianapolis. Then, it's all up to Turbo and his supersnail speed. 
With a star-studded cast boasting the likes of Maya Rudolph, Samuel L. Jackson, Snoop Dogg, Michelle Rodriguez, Luis Guzmán, Michale Pena and Richard Jenkins, Turbo is an adorable film about a little snail with big dreams. While some animated movies focus solely on entertaining the kids, and others devote too much energy to appeasing the adults, Turbo manages to achieve a nice balance of humor that will have parents and their children laughing together. And it promotes the inspiring messages that we want our children to be exposed to: 1) Follow your dreams, no matter how outlandish they may be. 2) Your heroes may disappoint you, but you can become your own hero. 3) Taco trucks are awesome. 
Indeed, Turbo features some nice contemporary touches, like the ever-popular food truck, a viral video subplot, and a French-accented car-racing villain à la Talladega Nights. Still, there is absolutely nothing surprising about this movie, which isn't necessarily to its detriment but certainly makes for a less exciting viewing experience. There's comic relief (most notably Ken Jeong's voice performance as a feisty female manicurist) and a bit of suspense, but we're never too worried that things won't turn out okay in the end. Is it realistic? Of course not. But is it fun? Most definitely. In effect, it's an easy movie to watch and enjoy for 90 minutes or so, but you probably won't find yourself hankering for a repeat viewing. While Turbo is nothing groundbreaking, it's a charming film with a lot of heart.
3.5/5
Follow Caroline On Twitter @Carolinesb | Follow Hollywood.Com On Twitter @Hollywood_Com
More: 
'Turbo': Ryan Reynolds Tackles the Classic Snail Movie Genre
'Turbo' Trailer 2
Ryan Reynolds Lives in the Fast Lane in 'Turbo' Trailer
---
From Our Partners


Stars Pose Naked for 'Allure' (Celebuzz)


20 Grisliest TV Deaths of 2012-2013 (Vulture)