Kristen Stewart, 'Twilight' Named 'Worst' By Razzies — See All the Losers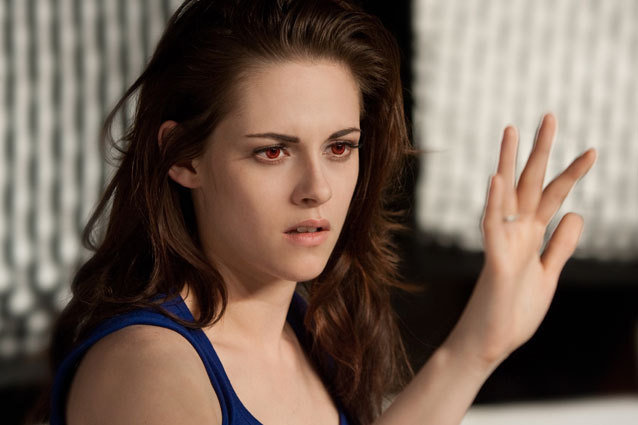 Movie-viewing recommendations I have for the voting committee of The Golden Raspberry Awards if they really think The Twilight Saga: Breaking Dawn – Part 2 is the worst movie of the year: the tone deaf Joyful Noise; John Cuasck's awful thriller The Raven; the rom-com void of love, This Means War; heck, Pixar's Brave is near unwatchable. At least Breaking Dawn has camp.
As with tradition, The Golden Raspberry Awards aka The Razzies have taken to the stage on Oscar morning to announce their picks for the Worst movies, actors, and actresses of the year and once again, they've set Twilight in their shaming crosshairs. The final entry of the supernatural romance franchise — easily the pinnacle of the entire series — earned Twilight its first Worst Picture win, after years of nominations and wins in acting categories. Overall, the movie earned seven nominations, with Adam Sandler and Rihanna sneaking in to spice things up.
RELATED: Oscars: What Should Win Best Picture? — POLL
Check out the full list of nominations and winners below. Then check out some of the above films and ask yourself (if you survive the experience): did The Razzies really get it right?
Worst Picture
Battleship
The Oogieloves in Big Balloon Adventure
That's My Boy
A Thousand Words
The Twilight Saga: Breaking Dawn Part II
Worst Director
Sean Anders – That's My Boy
Peter Berg – Battleship
Bill Condon – The Twilight Saga: Breaking Dawn Part II
Tyler Perry – Good Deeds / Madea's Witness Protection
John Putch – Atlas Shrugged: Part II
Worst Actress

Katherine Heigl – One for the Money

Milla Jovovich – Resident Evil: Retribution

Tyler Perry – Madea's Witness Protection

Kristen Stewart – The Twilight Saga: Breaking Dawn Part II / Snow White and the Huntsman 

Barbra Streisand – The Guilt Trip
Worst Actor
Nicolas Cage – Ghost Rider 2: Spirit of Vengeance / Seeking Justice
Eddie Murphy – A Thousand Words
Robert Pattinson – The Twilight Saga: Breaking Dawn Part II
Tyler Perry – Alex Cross / Good Deeds
Adam Sandler – That's My Boy 


Worst Supporting Actress
Jessica Biel – Playing For Keeps / Total Recall
Brooklyn Decker – Battleship / What to Expect When You're Expecting
Ashley Greene – The Twilight Saga: Breaking Dawn Part II
Jennifer Lopez – What to Expect When You're Expecting
Rihanna – Battleship
RELATED: 15 Oscar-Winning Nude Scenes
Worst Supporting Actor

David Hasselhoff – Pirannha 3-DD

Taylor Lautner – The Twilight Saga: Breaking Dawn Part II
Liam Neeson – Battleship / Wrath of the Titans

Nick Swardson – That's My Boy

Vanilla Ice – That's My Boy
Worst Screen Ensemble

Battleship
The Oogieloves in Big Balloon Adventure
That's My Boy
The Twilight Saga: Breaking Dawn Part II
Madea's Witness Protection
Worst Screenplay

Atlas Shrugged Part II

Battleship

That's My Boy 

A Thousand Words

The Twilight Saga: Breaking Dawn Part II
Worst Remake, Rip-Off, or Sequel

Ghost Rider 2: Spirit of Vengeance

Pirannha 3-DD

Red Dawn

The Twilight Saga: Breaking Dawn Part II

Madea's Witness Protection
Worst Screen Couple

Any two cast members from Jersey Shore in The Three Stooges

Mackenzie Foy and Taylor Lautner in The Twilight Saga: Breaking Dawn Part II
Robert Pattinson and Kristen Stewart in The Twilight Saga: Breaking Dawn Part II

Tyler Perry and his drag in Madea's Witness Protection

Adam Sandler and Andy Samberg, Leighton Meester, or Susan Sarandon in That's My Boy
---
Oscars 2013 Special Coverage
---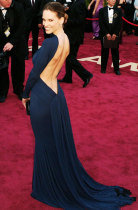 15 Most Iconic Red Carpet Dresses
• We Predict the Winners: Do You Agree?
• 15 Oscar-Winning Nude Scenes
• The Worst Best Picture Winner Ever
• Oscar's Problem With Pretty Boys
• Why Stars Should Fear Seth MacFarlane
• 10 TV Stars You Never Knew Won Oscars
• The Winner, According to You