Under The Radar: Brian Trenchard-Smith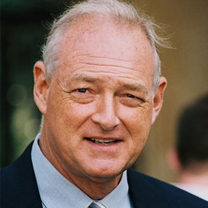 This week commemorates the birth of a truly great man. If you count yourself a movie fan and the words Brian Trenchard-Smith don't immediately register in your consciousness, this is a supreme travesty in need of immediate rectification. Brian Trenchard-Smith is an Australian director whose films represent the very finest in what has come to be affectionately dubbed Ozploitation; that is, genre fare from the land down under. After seeing the documentary Not Quite Hollywood, and meeting the man himself at Fantastic Fest, I became intrigued by his work. Turns out his films are not readily available in the States, but thanks to my good friend and life-long BTS junkie Brian Kelley, I have since become versed in his catalogue. In honor of Brian Trenchard-Smith's birthday, I present a list of some of his absolute best films; all well worth the arduous search necessary to acquire them.
Escape 2000 (AKA Turkey Shoot)
The landscape of b-movies is rife with films depicting men engaging in the hunting of men. And while you'd be hard-pressed to find a title within this nefarious sub-genre that I don't absolutely love, there is something about those set in Australia that makes me wonder if society may actually be rapidly approaching a future replete with these barbaric games. Escape 2000, not content with the trifle lunacy inherent in its concept, makes every effort to push the bounds of cinematic WTF?! The story is strong, the violence is impossibly entertaining and by the time you reach the film's werewolf, whom no one is prepared to explain, you'll understand why BTS is regarded as the Roger Corman of Australia.
I've seen a goodly number of low-budget kung fu movies in my time. Ordinarily, one makes a few concessions when watching these films. The story will be almost nonexistent, the production values flimsy, and, apart from the fights, the stunts won't be anything to write home about. BTS soundly turns his nose up at this limitation and brings us one of the most explosive martial arts movies of all time. Jimmy Wang Yu's brutal hand-to-hand exchanges with baddies are equaled in spectacle by thrilling car chases, high-flying acrobatics, and dubiously safe fire stunts courtesy of innovative water gels. BTS actually demonstrated the "safety" of these water gels to his actors by setting himself ablaze right before their eyes. If you aren't in love with this film by the time you hear its theme song, Sky High, you may want to check your pulse.
Grant Page is one of the most fearless stuntmen on the planet. The feats he so willingly attempts, at more-than-considerable risk to his own life, are astonishing to behold. While Deathcheaters and Stunt Rock are allegedly two separate films, they are included in tandem on this list due to their similar ambitions. Each one is less a film and more a loosely constructed stage wherein Mr. Page plies his dangerous trade. And while Deathcheaters has what more closely resembles a plot, Stunt Rock has the band/magic act known as Sorcery. Advantage: human race. But plots are completely inconsequential when the alternative is more scenes of Grant cascading down mountain faces, dodging landmines in full sprint, or driving like an invincible demon.
If you ever had a BMX bike as a kid, this is your Citizen Kane…it also helps if you've never seen Citizen Kane. When a trio of bipedal rascals comes across a boss set of walkie-talkies, they think they've discovered the key to one awesome summer. Too bad the previous owners of those walkie-talkies are arch criminals who would kill to get them back. Few kids movies are as wholeheartedly enjoyable to movie fans of all ages as BMX Bandits. The almost desperate love affair BTS has with BMX bikes shines through with wondrous absurdity. These bikes can go anywhere so there is no shortage of chase scenes involving befuddled adults not being to follow the rambunctious preteens as they ride through malls or…down waterslides? Nicole Kidman stars in one of her earliest film roles and she is just too darn cute for her own good. BMX Bandits is currently available on Netflix Watch Instantly and I highly suggest you do.
If his mission was to prove to the world that his talents lay strictly within the confines of the b-movie, BTS made a massive miscalculation with The Siege of Firebase Gloria. A hard-nosed soldier is sent to a dilapidated instillation and must defend it against a steadily advancing Vietcong. Beautifully shot, expertly written and featuring stellar performances from Wings Hauser and Hollywood's go-to drill sergeant R. Lee Ermey, The Siege of Firebase Gloria is a 100% legitimate war film that excels on every conceivable level. Ermey's narration adds just enough irreverent laughs to keep the film from taking itself too seriously, but the ending is insanely moving.