Under the Radar: 'Harry Potter' Characters Under the Makeup
As quickly as it apparated into theaters, the Harry Potter franchise takes its final bow this weekend. Whether you count yourself a fan of the source material or not, the fact is that few other movie franchises have ever chronicled one singular story over the course of a decade. We've gotten to know Harry, Ron, and Hermione and watch them grow up in much the same fashion as the series itself has matured. But as much as we love our three heroes, the Potter universe is filled with bright stars whom you may not recognize under all that makeup and costuming. Here are a few of our favorites.
Quite possibly the most makeup-laden actor in the entire series, Fiennes plays the nasty, and oddly reptilian, Lord Voldemort. Fiennes does an amazing job bringing to life the most evil literary wizard since Saruman. The great thing about Fiennes' involvement in this franchise is that he's not really known as a genre guy. With memorable turns in Schindler's List, Quiz Show, Red Dragon, and The Constant Gardener, Fiennes established himself as an adept dramatic actor. But recently he did play Hades in Clash of the Titans and he has just been signed on to the latest Bond film so hopefully there is a bright future in genre films for Fiennes. Let's just pray we don't get another Avengers out of the deal.
Coltrane is nearly unrecognizable buried under a massive beard and piles of giant hobo clothing but that is in fact him playing the lovable groundskeeper of Hogwarts. Coltrane is probably best known, outside of his Hagrid accoutrement, as Valentin Zukovsky, the Russian criminal who traded shots both conversationally and literally with Pierce Brosnan's James Bond in Goldeneye and The World Is Not Enough. Coltrane also appeared as the enigmatic Matsui who gave Danny and his crew some nearly indecipherable advice in Ocean's Twelve. I shudder to mention this, but he was also Mr. Hyde in 2004's Van Helsing. Now, instead, he plays the one in charge of the monsters, and thank Dumbledore for that.
It's never easy to replace an actor in a series who has passed away, especially if the robes you are filling belonged to Albus Dumbledore via Richard Harris. But luckily the producers of Harry Potter were no slouches when it came to judging talent. Michael Gambon, though mostly obscured by an epically long beard and a floppy wizard hat, has appeared in some utterly fantastic movies during his celebrated career; The Insider, Sleepy Hollow, The Life Aquatic with Steve Zissou, and voicing the sinister Bean for Fantastic Mr. Fox. But if you think he runs Hogwarts like a boss, check out his turn as gangster Eddie Temple in Layer Cake; magic.
Despite his lack of a goatee and his being coiffed with that black, greasy hair, there is no mistaking Alan Rickman as the questionably villainous Severus Snape. The man has such an unmistakable voice, that he could be playing a robot with a bad case of depression and we'd still know it was him…as evidenced by The Hitchhiker's Guide to the Galaxy. No matter how many spells he casts or how many children will come to fear Snape, I will always think of him as the brilliant terrorist-turned-thief Hans Gruber from Die Hard. Ho, ho, ho.
Adding Gary Oldman to this list has little to do with his Potter makeup, which is admittedly conservative, but rather the fact that it took me years to learn what the man actually looked like. He made a career out of throwing himself headlong into some wildly unique, often visually bizarre, characters; Sid Vicious, Dracula, a white Rastafarian, Beethoven, and Zorg from The Fifth Element just to name a few. It wasn't until Air Force One that I finally got an idea of his genuine features. His already formidable filmography coupled with his outstanding work as Commissioner Gordon in the Batman revamps make him an impressive addition to this franchise.
If you aren't familiar with Brendan Gleeson, correct this at once. As Moody, He delivers both the magical punches and the grizzled insults, but this is a guy who shows up in more period films and epics than anyone in history. He can be found in the likes of Braveheart, Gangs of New York, Cold Mountain, Troy, Kingdom of Heaven, and Beowulf. Seriously, do not make this guy mad.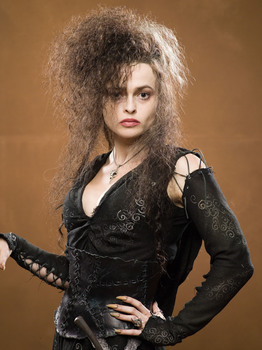 Helena Bonham Carter—Bellatrix Lestrange
Although probably better known among the mainstream than most of this list, Helena spends her time in these films draped in cake makeup and black veils of curly hair as the demented Bellatrix Lestrange. Carter has been in almost as many Tim Burton films as Johnny Depp, but even she had to marry the guy before that could be accomplished. Her breakout performance was undoubtedly Fincher's Fight Club and last year she showed her softer side as Queen Elizabeth in The King's Speech.
Playing one of Harry's closest advisors, who moonlights as a lycanthrope, David Thewlis is the epitome of "I know I've seen that guy before." He has been in everything from The Big Lebowski to Kingdom of Heaven; from The New World to The Omen. I even have a soft spot for his incredibly warped performance in Dragonheart…but that may just be me.