Under the Radar: The Cast of 'Immortals'
In many ways, every young actor strives for immortality. They work to build a career of indelible performances and unforgettable films so that their names will be heralded in conversations and discussions long after they have shuffled free of the mortal coil.
When audiences invade theaters to watch Tarsem Singh's Immortals this weekend, they'll see many up and coming young stars vie for their attention, hoping to capture the prize of becoming a household name for years to come. Here's the lowdown on the fresh faces ready to duke it out in Ancient Greece:
Henry Cavill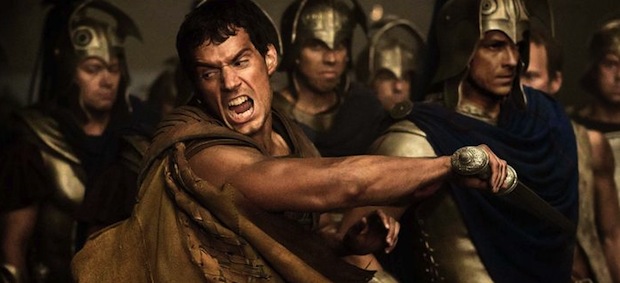 British actor Henry Cavill, who plays Greek hero Theseus, is definitely someone with whom you are going to want to be familiar before 2013. Appearing in theatrical productions since boarding school and long since making the leap to film, Cavill previously appeared in The Count of Monte Cristo, Tristan & Isolde, and Blood Creek (the latter being a film that comes with the highest of personal recommendations). Most recently, Cavill appeared as Henry VIII's good friend Charles Brandon on the acclaimed Showtime original series The Tudors. Cavill has been making headlines across the web of late, as he will be the new Superman in Zack Synder's Man of Steel, flying into theaters in June of 2013.
Frieda Pinto
The beautiful Frieda Pinto portrays priestess Phaedra, who must team with our hero Theseus to stop the evil King Hyperion (Mickey Rourke). In 2008, Frieda made a splash with critics and audiences alike with her performance in Danny Boyle's Oscar-winning film Slumdog Millionaire, where she played the long-adored love interest of the film's young hero. Her beauty and ability to capture the hearts of audiences was undeniable. Earlier this year she appeared opposite James Franco, and a very empathetic chimp named Caesar, in the late summer hit Rise of the Planet of the Apes. As a sequel to RotPotA is currently in the works, I'm sure we'll be seeing more of Frieda in the future.
Isabel Lucas
Playing the goddess Athena, the Greek goddess of wisdom, courage, and warfare, the cast of Immortals also boasts the lovely Isabel Lucas. The Australian born Lucas is most recognizable as the drop-dead beauty/robot assassin, who seduces, then tries to kill Sam in Transformers: Revenge of the Fallen. Lucas may not have gotten to showcase much more than her "natural assets" in the Transformers sequel, but her performance in 2009's excellent sci-fi/horror flick Daybreakers more than proved her acting prowess. Lucas has been cast alongside Thor's Chris Hemsworth and Watchmen's Jeffrey Dean Morgan in the remake of Red Dawn slated for next year.
Luke Evans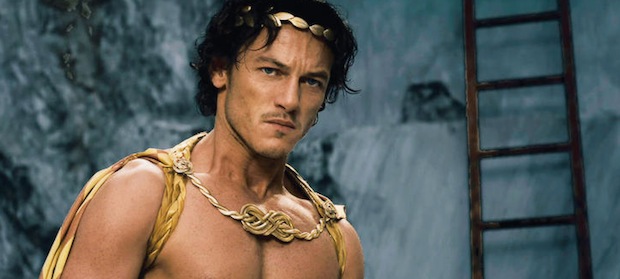 Charged with portraying Zeus, the god of all Greek gods and king of Mt. Olympus, Luke Evans may have the most pertinent experience on his resume of any of his young castmates. Evans has already appeared in several big screen epics including Ridley Scott's Robin Hood and W.S. Anderson's The Three Musketeers, which only hit theaters two weeks ago. On top of that, landing this role in Immortals doesn't even mark the first time Evans has played a Greek god. He also portrayed Apollo, the god of music and poetry, in last year's 3D remake of Clash of the Titans. Evans has several exciting projects in line to follow Immortals: He will appear alongside John Cusack in the crime thriller The Raven as well as in both segments of Peter Jackson's mammoth fantasy epic The Hobbit.
Kellan Lutz
Also among the denizens of Mt. Olympus, Kellan Lutz will portray Poseidon, Greek god of the sea. Lutz first appeared on the big screen in the 2006 gymnastics comedy Stick It and has been landing impressive credits ever since, including turns in remakes of both Prom Night and A Nightmare on Elm Street. In 2008, Lutz appeared as Cpl. Jason Lively in the phenomenal HBO miniseries Generation Kill—a must see for anyone interested in gritty, authentic depictions of modern warfare. But the role for which he will probably be most recognized by the widest audience is that of Emmet Cullen in the Twilight franchise. In addition to Immortals, you can bet your sparkly complexion that he'll be back later this month for The Twilight Saga: Breaking Dawn – Part 1 and again for the concluding chapter next year.