5 Underrated Woody Allen Movies
When you have a film catalogue as large as Woody Allen's, you're allowed to make a few duds (seriously, Anything Else?), as well as few overlooked gems. Here are five underrated Allen classics you might have missed.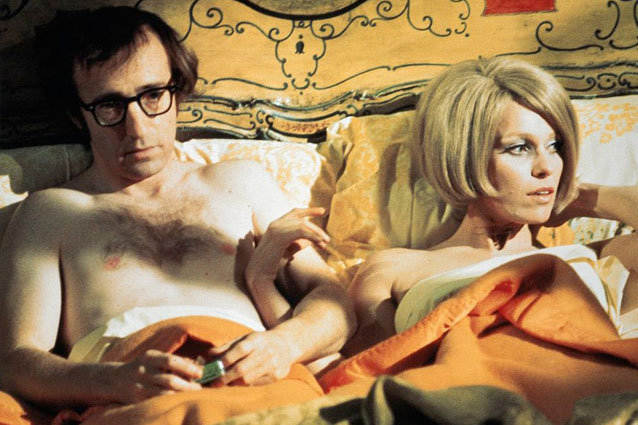 United Artists
5. Zelig

Whether he was posing as baseball legend Lou Gehrig, a bearded rabbi, or as one of Hitler's henchmen, the life and times of Leonard Zelig, a shape-shifting human chameleon, remains one of Allen's most inventive comedies. Shot mostly in black and white, and told using an old-timey newsreel format, it's also one of the director's few films to have relied heavily on special effects.
4. Sweet and Lowdown
The story of world's second greatest jazz guitarist (Sean Penn in an Oscar-nominated performance) is also a charming little love story in the vein of Annie Hall. It's interesting to note that Allen shelved the script for nearly 30 years (its original title was The Jazz Baby) before reworking it as Sweet and Lowdown.
3. Stardust Memories

Allen still cites this autobiographical film as one of his favorites. Stardust Memories,  about a director who revisits the past relationships that inspired his work, suffered from mostly negative reviews when it was released in the fall of 1980. However, the film has since been rediscovered thanks to Netflix and online streaming.
2. Everything You Always Wanted to Know About Sex* (*But Were Afraid to Ask)

Despite having the longest title of any of his movies, Everything You Always Wanted To Know About Sex  is also the finest example of the laugh-out-loud slapstick humor that dominated the director's earlier work. And only Woody Allen can tastefully direct Gene Wilder as a lovesick doctor that falls head-over-heels for a sheep. 
1. Take the Money and Run
Allen's first directorial effort is still one of his funniest. The story of petty thief Virgil Starkwell was also one of the first comedic mockumentaries, a format that was later made popular by This Is Spinal Tap, Best In Show, and The Office.
More:
Big 'Star Wars' Casting Rumor
5 Secret Chick Flicks That Dudes Like
5 Movies That Should Become Broadway Musicals
---
From Our Partners:


40 Most Revealing See-Through Red Carpet Looks (Vh1)


15 Stars Share Secrets of their Sex Lives (Celebuzz)