Universal Hires Paul Haggis to Adapt Daniel Silva's Gabriel Allon For the Screen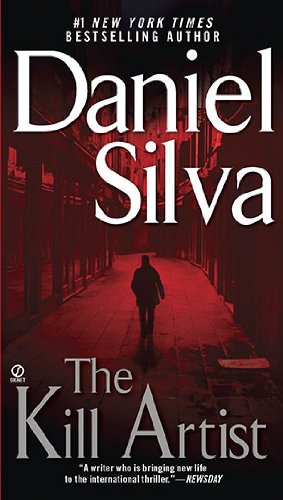 Many months ago I posted a featured titled I Spy A New Spy, in which I recommended a handful of secret agent/assassin types for film adaptations. Apparently Hollywood took notice of it, because since it was published Warner Bros. optioned Brad Thor's Scot Harvath series of spy novels (The Lions of Lucerne will start the hopeful franchise) while Universal Pictures just today acquired the rights to my favorite anthology of espionage stories: Daniel Silva's Gabriel Allon novels (both appeared on my list).
According to 24 Frames, Paul Haggis has been tapped to pen the first film in a future franchise that will start, most likely, with the first globe-trotting book in the series, called The Kill Artist. Still, the source notes that the introductory movie could draw upon elements from many of the ten novels Silva has written featuring his ex-Mossad agent-turned-art restorer. Allon was (fictionally) one of the leaders of the Israeli special forces team that avenged the death of Israeli athletes at the Munich Olympics earlier in his career, but after the terrorists struck back by murdering his family he took the much cushier job of touching up classic paintings. However, he's frequently called back into action by his former handler Ari Shamron, who thrusts him into life threatening situations in order to protect Israel and her children.
Though Haggis may be best known as writer-director of the Oscar winning ensemble drama Crash, he's no stranger to action-thrillers, having penned both recent installments of the James Bond franchise (the fantastic Casino Royale and the less-stellar Quantum of Solace) and most recently directing The Next Three Days for Lionsgate. This would certainly be the biggest project he's ever taken on (should he direct), but given his penchant for intelligent projects I've got a good feeling that he'll strike the right tone with this adaptation.
However, the trickiest thing about adapting Gabriel Allon for mainstream audiences is that the series puts the turmoil in the Middle East front and center, and that could either hurt or help the project. The narratives dive in to the politics of the region and takes an obviously pro-Israel stance in determining the good guys from the bad, so while an A-list star in the lead could help its domestic box office potential, my biggest concern is about how it would perform internationally.  
Jeff Zucker, the former NBC executive, will produce.
Source: The LA Times