Universal Pictures Announces Release Date Changes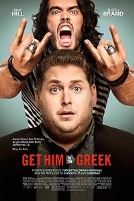 Universal Pictures is having a tough year. In fact, it's been a tough couple of years for the studio. The only profitable films it has released in 2010 are Get Him To The Greek and…wait for it…Leap Year. Losses abound, the distribution executives over at the recently remodeled company are racing to adjust their release schedule for the remainder of 2010 and the first half of 2011 to maximize profits. Courtesy of The Wrap, we've got the low down on when a handful of Universal's upcoming products will officially bow.
The biggest change is the George Nolfi-directed sci-fi romantic drama The Adjustment Bureau, starring Matt Damon as a rising politician who's affair with a stunning ballerina is thwarted by a shady organization. Based on the riveting short story by the inimitable Philip K. Dick, the film co-stars Emily Blunt, John Slattery, Daniel Dae Kim and Anthony Mackie and has been moved from a September 17th 2010 release to March 4th, 2011. Taking it's place is the M. Night Shyamalan-produced The Night Chronicles: Devil.
Next up is Neil Burger's The Dark Fields, which was set for March 18th 2011 but will instead be seen on January 21st 2011. The film centers on a copywriter who discovers a top-secret drug that enhances intellect and other abilities. As his usage begins to change his life, he begins to consider the drug's shadowy origins; meanwhile, a group of killers trail his every move. Bradley Cooper and Robert De Niro star.
The dramedy Kids In America (which could be released under the title Young Americans), starring Anna Faris and Topher Grace, moves up from January 28th 2011 to December 3rd 2010, while the James Cameron-produced Sanctum moves up a month from March 4th 2011 to February 4th 2011.
Additionally, the studio has set release dates for a pair of films that previously were not on the slate, including The Strauss Brothers' thriller Skyline (November 12, 2010) and the Seth Rogen sci-fi comedy Paul, directed by Greg Mottola and co-starring Simon Pegg and Nick Frost.
Source: The Wrap