UPDATE: Tina Fey & Meryl Streep To Team For New Film?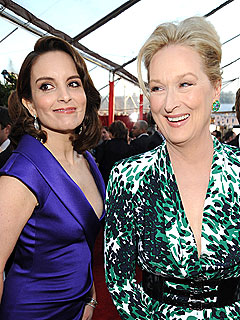 UPDATE: The Hollywood Reporter has confirmed out earlier scoop that both Fey and Streep have signed onto the comedy. Additionally, Tucci is locked as director of Mommy and Me, which will be the fifth film that the Oscar nominated actor has directed.
Original Story:
In what might be today's oddest yet most titillating casting rumor, The Los Angeles Times reports that Emmy winner Tina Fey and Oscar winner Meryl Streep may unite for a new comedy to be directed by Streep's cinematic confidante Stanley Tucci (who worked with the reigning award Queen in 2006's The Devil Wears Prada and last year's Julie and Julia).
According to the publication, the project is tentatively titled Mommy and Me and would see the critically adored actresses playing – well, mother and daughter. Despite not having a script or even contracted writers at the moment, the thought of having Fey and Streep together on screen (an idea that the 30 Rock star has repeatedly stated is a dream of hers) is getting studios very interested. Sony, which is quickly becoming the go-to distributor for female-skewed fare, is reportedly the front-runner to make Fey's dream a reality.
Tucci may or may not co-star in the film, but he will produce along with his Olive Productions partners Steve Buscemi and Wren Arthur. Joby Harold wrote the treatment on which the idea is based and will also likely produce.
I don't think I have to stress how amazing a film with these two Hollywood heavyweights would be. While Fey has worked her way from TV writer to movie star over the last decade, making hit movies like Mean Girls, Baby Mama and Date Night, Streep has spent that time re-defining her career by balancing dramatic works like Doubt with fun films like It's Complicated. They both can sell movie tickets and are both beloved by male and female fans, ensuring that the proposed collaboration will certainly ring up big opening weekend numbers.
Source: The LA Times