'Vamps': A Biting 'Clueless' Reunion that Looks Campy and Fun — TRAILER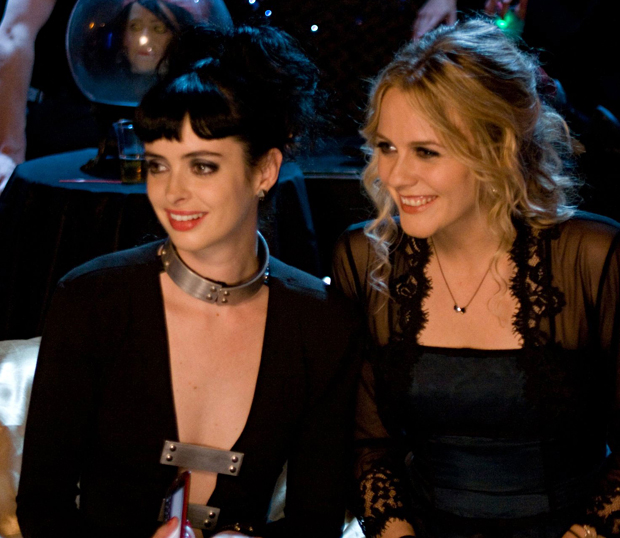 It might disturb you to realize that Clueless came out more than 17 years ago. That's just a few years shy of how old Alicia Silverstone was at the time the movie was made. Since the film's 1995 release, its original demographic of teenage fans have grown. Grown into a world of late 20s/early 30s-dom, awaiting the same kind of fresh, biting satire to take down today's youth culture the way Amy Heckerling's Emma reimagining did way back when. It's true that not even a reteaming of Heckerling and Silverstone is likely to top the modern classic Clueless, but their reunion does seem to produce something worth watching: Vamps.
Heckerling again attacks the contemporary heatwave of vampire culture with Vamps, bringing the very appropriate choice of Krysten Ritter along to play opposite Silverstone. The two are a pair of present day urbanite vampires leading a provocative and hedonistic lifestyle, until Ritter's character falls for Joey (Dan Stevens), the descendant of one Prof. Van Helsing, legendary vampire hunter. The campy idea could fall short in the hands of someone less capable with comedy than Heckerling, or with stars lacking the charisma of Silverstone and Ritter (the mighty Wallace Shawn is also along for the ride). Check out the trailer below. Vamps hits limited theaters on Nov. 2.
[Photo Credit: Anchor Bay Films]
More:
The Hobbit Is Front and Center in New 'Hobbit' Poster
'Les Misérables' Poster Recreates Broadway Original with Vivid Reality
Hugh Jackman's Abs Are Sharper Than His Claws in 'The Wolverine' — PIC