'Guardians of the Galaxy': 7 Reasons Vin Diesel Will Play the Tree-like Groot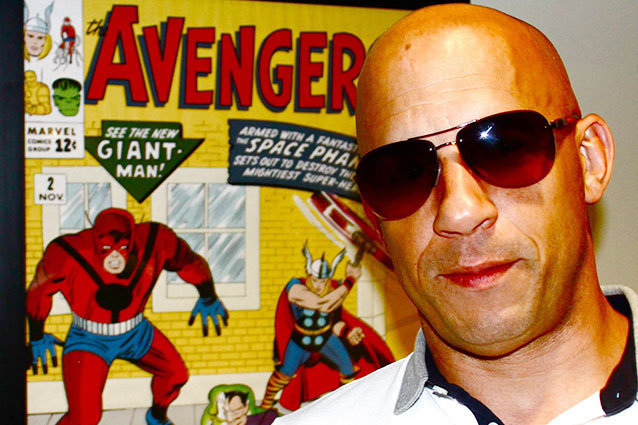 Some Philistines claim that gravel-voiced wifebeater aficianado Vin Diesel is a purveyor of wooden acting. Well, "wooden" acting could be exactly what's required for one of his next roles: the tree-like Groot in Marvel Studios' Guardians of the Galaxy. Though not officially a done deal yet, Diesel has been very transparent about the fact that he's in talks with Marvel for a major role in one of their upcoming films. Here are seven reasons why we think Groot may have Diesel's name carved all over it.
1. Diesel Posted a Comic Book Image of Groot on His Facebook Page — The Fast & Furious actor posted an image of the walking/talking tree from the most recent Guardians of the Galaxy comic series for the pleasure of his 45 million Facebook fans. But what's more, he made it his cover photo…only to take it down quickly thereafter, even removing the original post. Could Marvel have intervened because Diesel wasn't supposed to let this dribble of information slip?
2. He's Been Teasing his Marvel Involvement for Awhile — Back in June, Diesel said that Marvel Studios had "requested a meeting" with him. Then, at the Comic-Con panel for Riddick last month he said that fans could expect a "major announcement" from Marvel by the end of the month. But July passed and we weren't treated to any such announcement. In the meantime, he kept throwing out teases like a shot of him standing in front of an old Avengers comic-book cover. Something is brewing…
3. Groot Has Been a Major Part of the Guardians of the Galaxy Team Since Its Relaunch in 2006 — Groot was originally conceived as a villain by Stan Lee and Jack Kirby in 1960. He was a tree-like alien scientist who experimented on humans. Groot could absorb wood to gain strength and heal, and he could psychically possess other, non-sentient trees. But in the 2006 Guardians relaunch, Groot was reimagined as a key member of the spacefaring superhero squad, and since that's the version of Guardians' lore that's serving as the basis for the movie it makes sense he'd be included. In fact, Marvel has already released the following concept art for the character. No other voice actor has been attached to the part, however.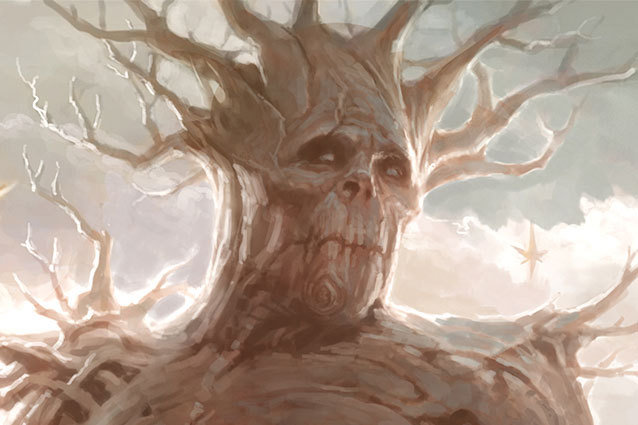 4. It's An All-CGI, Voice-Heavy Role — There aren't too many hairless, musclebound characters left in Marvel lore who Diesel could play, really, so it makes sense that the studio would want to take advantage of one of his other assets: his voice. That basso profundo roar could be a way to give Groot an instant personality…except for the fact that most people, unable to understand his language, can only hear him say "I am Groot." But imagine what Diesel could do with those three words!
5. Groot Suits Diesel's Sensibility — Groot is a character whose imposing physical presence often overshadows his keen intellect. He is a supremely intelligent scientist, but he doesn't often get the credit he deserves. Kind of like Diesel, if you think about it. Most of the time he's billed as just a testosterone-fueled heavy, but he does have acting ability and also something more ineffable: awareness. He's an action star with an internal life. Even the great Sidney Lumet said in 2006, when promoting his Diesel-starring film Find Me Guilty, that the actor was "as accomplished as any I've worked with in my career." And that's a career that includes Henry Fonda, Al Pacino, William Holden, Albert Finney, and many others, so he knew what he was talking about.
6. Groot Is One of the Good Guys — …But he's not exactly a "nice guy." Kind of like Diesel in every movie ever.
7. Guardians of the Galaxy Would Fit Into His Production Schedule — Diesel is about to start production on next summer's Fast & Furious 7, followed immediately by a film called The Last Witch Hunter. That might make shooting Guardians of the Galaxy difficult, since it's coming out August 1, 2014, but Groot will be an all-CGI character. Diesel will have a brief window to record his dialogue, but that's easier than showing up on set. Also, his recording sessions will probably just involve him reciting dozens of different variations on "I am Groot."
What do you think of Diesel's possible casting as Groot? And do you think he or any other members of the Guardians team might also show up for The Avengers: Age of Ultron?
Follow Christian Blauvelt on Twitter @Ctblauvelt
More:
Marvel's Phase 3: Ant-Man, Doctor Strange, Hulk, Iron Man 4 on Tap
Vin Diesel Meeting With Marvel: Could He Be in 'Avengers 2'?
The Marvel Universe Is One Big Swinger Party
---
From Our Partners:


40 Most Revealing See-Through Red Carpet Looks (Vh1)


15 Stars Share Secrets of their Sex Lives (Celebuzz)