Where is Viola Davis' Movie?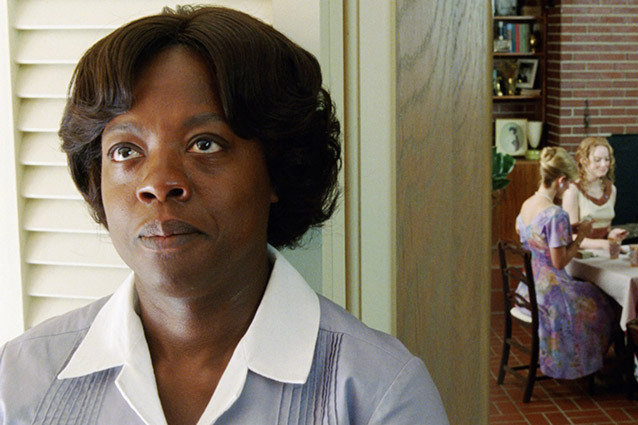 Walt Disney Studios via Everett Collection
When Meryl Streep won the Screen Actors Guild award for Best Actress in 2009 for her performance in the film Doubt, she encouraged Hollywood executives to give her co-star and Best Supporting Actress nominee Viola Davis a substantial part in a future project. "My God, somebody give her a movie," Streep exclaimed to the A-list audience in her acceptance speech.
At the time, Davis was mostly known for her theater work , but her scene-stealing performance in the Oscar-nominated Doubt was impossible to ignore. Despite Davis' memorable presence and Streep's special shout-out, however, Davis' talents have been wasted on small, unsubstantial roles in Hollywood films developed for bigger movie stars like Hugh Jackman and Julia Roberts. Five years later, the question remains: Where is Davis' movie?
With the exception of Doubt, Davis' only other juicy film role has been Aibileen Clark in The Help. Davis is fantastic in the film, and she rightfully earned her first Academy Award nomination for Best Actress (and wrongfully lost to Meryl Streep's cringe-worthy performance in The Iron Lady). However, critics were correct to acknowledge that The Help isn't exactly the kind of film black actresses are looking for. Melissa Harris-Perry, for example, claimed that The Help whitewashes history and perpetuates stereotypes the black community has been trying to move away from for years.
Perhaps the criticism would be less pronounced if Davis continued to star in major Hollywood films after The Help, but that hasn't been the case. Despite box office success and nominations from the major awards groups, Davis' association with The Help hasn't catapulted her to the movie star she deserves to be.
Of course there are many great actresses who never get their chance to shine, and there are just as many terrible actresses who get paid millions to open a film on 3,000 screens. That's the nature of a business that rewards popularity more than talent. However, Davis' case is unique precisely because when given her chance to carry a film as she does in The Help, she knocks it out of the park. She turns a potentially corny drama into a must-see cinematic event, and audiences around the world flocked to see her, despite the above criticisms. 
I suspect that Davis is living comfortably and enjoying the success she's received thus far. She's probably just grateful to be a working actress. However, after seeing her be the best part of films that were made to be carried by millionaire movie stars like Roberts in Eat Pray Love and Jackman in Prisoners, it's infuriating to know that Davis hasn't been given the opportunity when so many other A-list movie stars are allowed to fail time and time again. 
Whether this has to do with the racism of Hollywood or Davis' inept agent, I'm not sure, but it's about time that Davis gets the leading role she deserves.