Warners to Give 'Mandrake the Magician' the 'Sherlock' Treatment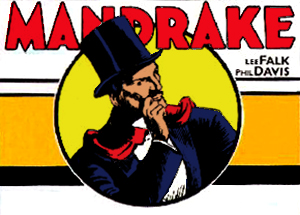 To the youngsters who came out in droves to see Warner Bros.' recent Sherlock Holmes films, it may come as some surprise to learn that Arthur Conan Doyle's genius detective was once considered a musty old relic before Robert Downey Jr. and Guy Ritchie reinvented him as a thoroughly modern action hero (albeit one presiding in the 19th century). Now Warners is aiming to pull off the same feat with another seemingly antiquated crimesolver.
According to The Hollywood Reporter, the studio has snatched up the rights to Mandrake the Magician, a comic strip created in 1934 by Lee Falk, whose subsequent creation, The Phantom, would later eclipse it. Mandrake, which has already made abortive forays into film (in 1939, as a 12-part serial) and television (as a 1979 TV movie), followed an illusionist/hypnotist who fought evil along with his "African strongman" companion, Lothar.
Bad guys thwarted by Mandrake during his adventures included aliens, gangsters, and even his own twin brother. He now faces his greatest adversary yet: the perilous Hollywood development process. Just a few years ago, a potential Mandrake movie at Disney was torpedoed when first Jonathan Rhys Meyers, then Hayden Christensen attached their names to it. No project, no matter how promising, can hope to survive that kind of taint. We wish Mandrake better luck this time around.
Source: THR
Follow Thomas Leupp on Twitter.
Follow Hollywood.com on Twitter.