'The Croods' Finds First Place, 'Olympus Has Fallen' Steals Second at Weekend Box Office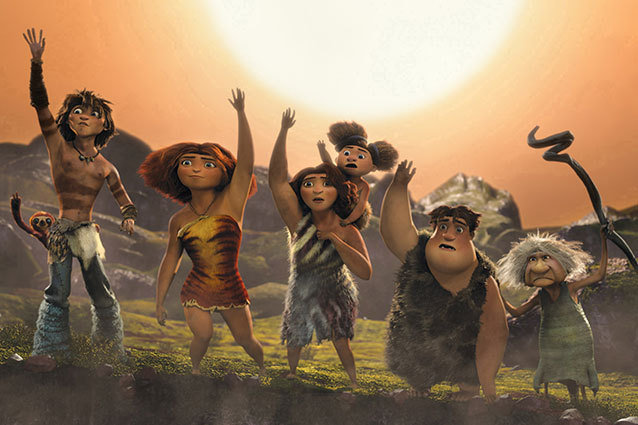 As expected, The Croods bashed the competition — with a blunt club, most likely — at the box office this weekend. The family-friendly animated film, which stars voicework by Nicolas Cage, Emma Stone, Ryan Reynolds, and Cloris Leachman, raked in $44.7 million dollars, a bit over the expected $40 million.
Also surpassing Oz The Great and Powerful  this weekend (which has held court at the top spot since it was released March 8) is FilmDistrict's Olympus Has Fallen. The action flick, which chronicles the abduction of the President of the United States and consequent takeover of the nation's capital and stars Gerard Butler, Morgan Freeman, and Aaron Eckhart, made $30.5 million at the box office this weekend. This breaks the trend of R-rated action movies foundering at the box office this year.
Despite The Croods and Olympus' strong opening numbers, however, the overall box office is down 34% from the same weekend in 2012. Considering it was this same weekend last year that The Hunger Games burst onto the scene, the drop isn't so surprising. During its opening weekend in 2012, The Hunger Games set a record with its incredible $152.5 million debut. 
Who else scored at the box office this weekend? Here are the top five:
1. The Croods: $44,700,000
2. Olympus Has Fallen: $30,500,000
3. Oz the Great and Powerful: $22,031,000 with $177,559,000 to date
4. The Call: $8,700,000 with $30,904,000 to date
5. Admission: $6,445,650
[Photo Credit: DreamWorks Animation]