Why Daniel Radcliffe Is the Rom-Com Hero We've Been Waiting For
Issues about the blurry line between love and friendship aren't the only important questions that the trailer for the "friend zone" rom-com What If brings to the forefront. More relevant than the question of whether or not you should tell your friend that you love them, more vital than who decided to have Daniel Radcliffe and Adam Driver stand next to each other, and more intriguing than the origin of everyone's weird names is the question: Could Daniel Radcliffe be the rom com leading man we've been waiting for all along?
Let's look at the evidence:
He's Charming
Charisma is a vital part of the rom-com hero formula – after all, he's not just winning over his leading lady, but the entire audience as well. It's a good thing, then, that Radcliffe has charm in spades, no doubt thanks to spending his formative years in the public eye. Whether he's rambling a mile a minute about cricket or giving his fantasy football team a terribly funny name (Barkevious Mingo's Mum) or campaigning for him and Dane DeHaan to win an award for Best Kiss, it's hard not to fall under Radcliffe's spell.
He's Awkward
Every leading man needs some kind of flaw to humanize them and makes them more approachable, and if the success of Jude Law and Hugh Grant's movies prove anything, it's that nobody does the "bumbling charmer" better than an Englishman. Radcliffe's natural manic energy is the perfect basis for plenty of uncomfortable misunderstandings, physical comedy (like, say, someone getting knocked out of a window) and long-winded, heartfelt apologies that make everyone in the theater swoon.
He Seems Like a Regular Guy
Though the most common rom-com hero has a strong jawline and a six pack, the most enduring ones seem like real people. Think Seth Rogen in Knocked Up or Dustin Hoffman in The Graduate or the most iconic of all, Billy Crystal in When Harry Met Sally. Despite being famous since he was a little kid, Radcliffe has that same Everyman appeal that makes those other guys so charming: good-looking but not intimidatingly so, confident but not cocky, intelligent but not insufferable. In short, Radcliffe seems like a guy you could actually be friends with, and that makes him more appealing.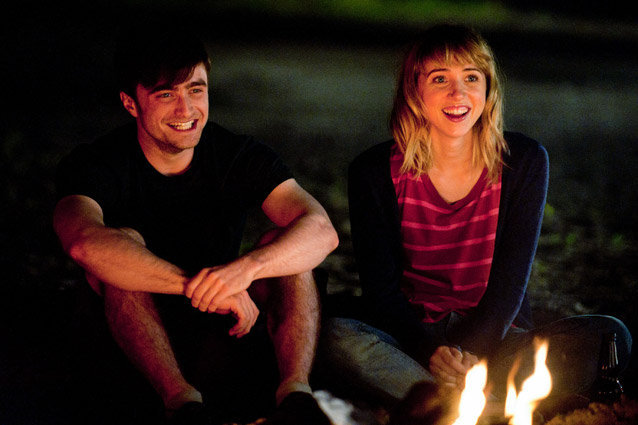 CBS Films
He's a Good Dancer
Even if your rom-com doesn't feature a scene where the hero sweeps his lady off her feet by being surprisingly light on his feet, it's a necessary part of the whole "dream guy" package that Hollywood has been selling for years. And after starring in How to Succeed in Business Without Really Trying, Radcliffe's got all the moves he needs to be the guy of your dreams, even if you can hear him counting out the steps under his breath.
He's Comfortable With Goofy Sidekicks
Just as the rom-com heroine has a sassy, less inhibited best friend (almost always played by Judy Greer), the hero has a sidekick of his own. As Harry Potter, Radcliffe spent 10 years with a best friend by his side at all times, which means he has plenty of experience talking about his relationship over a few beers or a game of cricket. Based on the trailer, it seems that Radcliffe's put that to good use, and his chemistry with Driver gives the trailer some much needed goofiness. That height difference alone…
He's Harry Potter
It doesn't matter whether you actually preferred Ron or Draco or even Cedric Diggory, every girl wants to date the Boy Who Lived. Well, every girl except Cho Chang, but to be fair, there were other factors at play there.