What Is Daniel Radcliffe's Best Non-'Potter' Performance?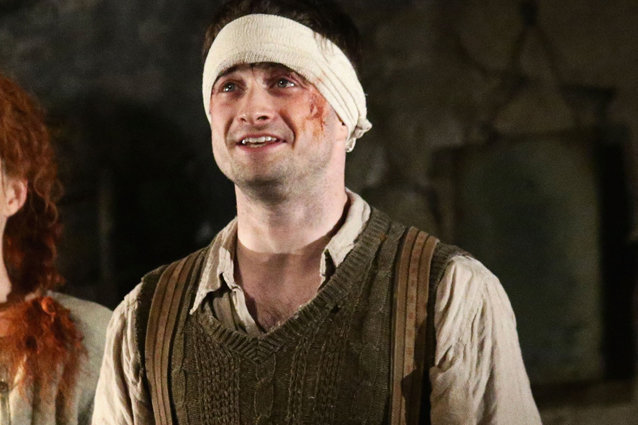 Getty Images/Andrew Toth
By now, everyone knows Daniel Radcliffe as the absolute delight of a human being who played Harry Potter for most of his (and our) lives. We like him best sporting a pair of round glasses and a lightning bolt scar on his forehead. But Radcliffe is muti-faceted, both in terms of his personality – He's eloquent! He's funny! He's charming! He loves football! – and his talent – He acts! He dances! He sings! He can do a pretty solid American accent! – and so it's unfair to reduce him down to just one character, even if it's his most famous one of all. With Radcliffe about to firmly shake off the hold of Harry Potter for good, thanks to a series of varied, interesting roles, like charming everyman Wallace in the upcoming rom com What If, we felt inspired to look back on everything that he's achieved outside of Hogwarts. Sure, some of his non-Potter characters are extra funny or self-aware thanks to how he became a household name, but they're just as complex and compelling in their own right. After all, Harry Potter will always be there, but Cripple Billy could use all the love he can get. 
David Copperfield
Before he was Harry, Radcliffe made his acting debut as another famous orphan in the 1999 BBC adaptation of David Copperfield.  It's not the most polished performance of his career, but it's remarkable for how effortlessly compelling he is as an actor, and it's easy to see the spark that Potter producer David Heyman saw before asking Radcliffe to audition for the Boy Who Lived. Plus, with those big blue eyes and chubby cheeks, it's by far his most adorable performance.
Extras
Radcliffe's comedy chops were evident way back in 2006 when he appeared as a version of himself in Ricky Gervais' show Extras, as a lewd, over-confident teenager. Watching him awkwardly try to hit on every woman who crossed his path could have been embarrassing, but he plays it with the right amount of self-awareness to make it hilarious when he inevitably turns the tables to get the adults on set in trouble. The David Brent-like cockiness coming from such a familiar face is just jarring enough to be comedy gold.
My Boy Jack
Proving that he has talent for inhabiting titular characters, Radcliffe starred in this television adaptation of David Haig's play in 2007. As John, the son of author Rudyard Kipling (Haig), Radcliffe got his first truly adult role, playing the determined but unprepared officer in World War I. It's a complicated role to play, as it balances both the weightiness of a war drama with the domestic conflicts of the father-son relationship, but Radcliffe handles them all adeptly, alternating between earnest and haunted, and finding ways to quietly echo his on-screen father. The mustache, however, was less successful.
The Woman in Black
For his first post-Potter role, Radcliffe decided to dip his toe into the horror genre with The Woman in Black, where he played Arthur Kipps, a widower and a lawyer who leaves his young son behind to investigate the affairs of a remote village, and stumbles across a violent spirit. He spends most of the film alone on-screen, wandering through the haunted, abandoned house, and it's a testament to his charisma that you're never once bored. It's a tough feat to accomplish given he often has nobody to react to or bounce off of, but he still manages to deliver a complex, endearing and terrifying performance that leaves you rooting for him to be reunited with his son.
Kill Your Darlings
Radcliffe playing iconic beat poet Allen Ginsberg shouldn't make any sense, but he made it work, somehow, delivering an incredible performance that's due just as much to his own natural talent as to his incredible, searing chemistry with Dane DeHaan.  As Ginsberg, Radcliffe is sensitive and compelling, adding the right amounts of jitters and neuroses and helping the audience to fall in love with Lucien Carr along with him. At its heart, the film is about the relationship between Ginsberg and Carr, and likewise, the performances are all about the way that Radcliffe and DeHaan play off one another.
The Cripple of Inishmaan
In his third West End and Broadway production, Radcliffe took on the physically and emotionally demanding title role in Martin McDonagh's black comedy. As Billy, a cripple boy in 1930's rural Ireland who wants to watch a film shoot on the neighboring island of Inis Mor, Radcliffe is equally hilarious and heartbreaking. Billy is, by turns, earnest, desperate, frustrated, lovesick, heartbroken and bitter, and Radcliffe plays them all perfectly, never letting any one of them overtake his nuanced performance. With an arm bent in on his side and a foot dragging behind him, he completely disappears in the role, inhabiting even the most subtle elements of the character to create a full-realized, complex, haunting person.
Vote for your favorite non-Potter performance in our poll below!